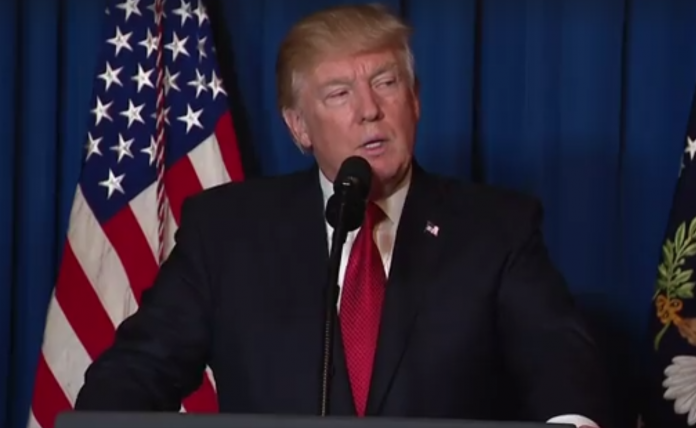 President Donald Trump released a video message on Wednesday  "unequivocally" condemning the violent mob attack on the U.S. Capitol last week, January 6.
His message comes after the U.S. House of Representatives impeached him for the second time. In the Articles of Impeachment, House Democrats accused the Pres. Trump of "incitement of insurrection" for his role in last week's deadly attack at the U.S. Capitol.
They noted that on January 6, the president delivered a speech to his supporters repeating "false claims" such as "We won this election, and we won it by a landslide.
House Democrats alleged that the president not only reiterated false claims about election fraud but also "willfully made statements that, in context, encouraged- and foreseeably resulted in- lawless action at the Capitol."
According to them, Pres. Trump "threatened the integrity of the democratic system, interfered with the peaceful transition of power, and imperiled a co-equal branch of government."
The House voted 232-197 to impeach Pres. Trump with four GOP lawmakers not voting. Ten Republicans joined House Democrats to vote in favor of impeachment.
In his video message on Wednesday, the president did not mention the impeachment. Instead, he emphasized that he "unequivocally condemned the violence" that occurred at the U.S. Capitol that "angered and appalled millions of Americans" and the political spectrum.
Pres. Trump claims those who attack the U.S. Capitol are not his true supporters
"Violence and vandalism have absolutely no place in our country and no place in our movement. Making America Great Again has always been about defending the rule of law, supporting the men and women of law enforcement, and upholding our nation's most sacred traditions and values," said Pres. Trump.
He added, "Mob violence goes against everything I believe in and everything our movement stands for. No true supporter of mine could ever endorse political violence. No true supporter of mine could ever disrespect law enforcement or our great American flag. No true supporter of mine could ever threaten or harass their fellow Americans. If you do any of these things, you are not supporting our movement- you are attacking it. And you are attacking our country. We cannot tolerate it."
Pres. Trump urged Americans to stop violence, supporters must help promote peace
Furthermore, the president noted that political violence became "out of control" last year because of the COVID-19 pandemic. He encouraged all Americans to stop the violence because there is no reason for it.
"We have seen too many riots, too many mobs, too many acts of intimidation and destruction. It must stop whether you are on the right or in the left, a Democrat or a Republican; there is never a justification for violence. No excuses, no exceptions. America is a nation of laws. Those who engaged in the attacks last week will be brought to justice.
Moreover, Pres. Trump encourage his supporters be calm and help maintain peace across the country.
"Now I am asking everyone who believe in our agenda to be thinking of ways to ease tensions, calm tempers,  an help to promote peace in our country," said the president.
He went on to say that the U.S. Secret Service briefed him about that planned demonstrations and potential threats nationwide. He pointed out that every American has the right to express their voice in a "respectful way."
"That is your First Amendment right but I cannot emphasized that there must be no violence, no law breaking, and no vandalism of any kind. Every one must follow our laws and obey the instruction of law enforcement," said Pres. Trump to his supporters.
Watch Pres. Trump's complete video message below.
Have a story you want USA Herald to cover? Submit a tip here and if we think it's newsworthy, we'll follow up on it.
Want to contribute a story? We also accept article submissions – check out our writer's guidelines here.