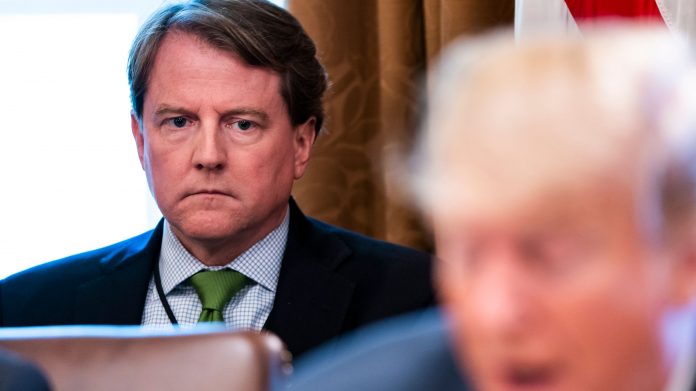 President Donald Trump announced Wednesday that White House counsel Don McGahn will be leaving his staff in the fall. Trump said on Thursday that he's chosen McGahn's successor.
Who is Don McGahn?
McGahn, 50, worked for Jones Day as a campaign finance attorney in Washington D.C. He was also chairman of the Federal Election Commission. He was counsel to the National Republican Congressional Committee. McGahn then joined Trump as general counsel for his 2016 campaign.
After he won the election, Trump appointed McGahn as general counsel for the White House. He praised McGahn for his "brilliant legal mind, excellent character and a deep understanding of constitutional law."
McGahn helped Trump select Neil Gorsuch and Brett Kavanaugh for the Supreme Court. He's also been the White House representative dealing most closely with Robert Mueller's investigation.
Why is McGahn Leaving?
The president tweeted that McGahn will stay on staff until after the Senate votes to confirm Brett Kavanaugh as the next Supreme Court Justice.
That's when he's leaving. Why he's leaving is less clear.
According to an anonymous source inside the White House, McGahn and Trump clashed early on in the president's term.
Trump supposedly wanted McGahn to put pressure on Deputy Attorney General Rod Rosenstein to remove Mueller as special counsel on the Russia probe. McGahn allegedly threatened to resign if the president insisted. The president later claimed these events never happened.
McGahn, however, has been telling others that he was planning to leave. He hasn't given a reason, though, and the president has nothing but good remarks about him.
He said McGahn is "a really good guy" and praised him for doing "an excellent job."
Possible Replacement?
"I am very excited about the person who will be taking the place of Don McGahn as White House Counsel!" the president tweeted on Thursday. He did not, however, reveal who the person would be.
Many consider Emmet Flood to be a top candidate for the job. He became in-house counsel in May and has been helping deal with the Russia probe. Anonymous sources say that McGahn supports him for the role.
White House press secretary Sarah Huckabee Sanders said of Flood, "People like him. He's super well-respected around the building. But there's not a plan locked in place at this point."