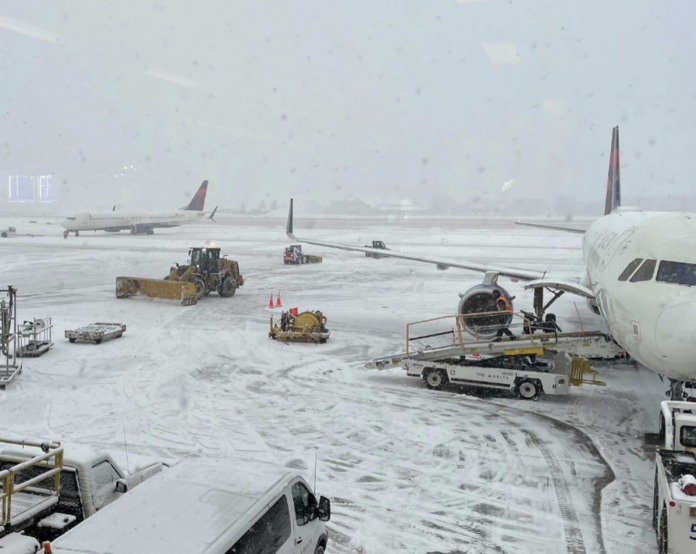 2022 has gotten off to a rocky start when it comes to weather and air travel.
During the earliest days of this year, Americans in Washington D.C., Virginia, and other surrounding areas found themselves stuck in snowstorms. These storms set off a chain reaction of problems, with some folks ending up stranded on roads in their vehicles for more than 24 hours.
Meanwhile, the air travel issues that arose towards the end of last year during the Christmas holiday season merely carried over to this year.
However, with winter storms emerging once more, mass flight cancellations and other consequences are rearing their ugly heads.
A closer look at inclement weather and air travel
Southeastern areas of the United States suffered the worst impacts of snowstorms. Sunday, alone, triggered a rampant surge of flights facing delays (5,700+) and cancellations (4,700+).
States like Georgia, South Carolina, North Carolina, and Virginia remain under emergency declarations, due to poor weather. Snowstorms have furthermore led to many Americans lacking electric power.
Communities hit hardest by these storms are facing requests from leaders to stay off the roads, if at all possible. The fewer people on the roads, the easier matters like power restoration, snow clearing, vehicular accident assistance, etc., will be.
Thus far, airports hit hardest by inclement weather are Atlanta's Hartsfield-Jackson International Airport and North Carolina's Charlotte Douglas International Airport.
Meanwhile, airlines suffering the greatest amounts of flight cancellations thus far are Delta Airlines, Southwest Airlines, and American Airlines. Delta has a good deal of flights stemming from Atlanta; whereas American has considerable flights going out of Charlotte.
What Americans can expect going forward
At this time, communities are working hard to restore power to individuals without access. However, it will take time, especially with the high quantity of impacted individuals.
Airlines, meanwhile, are doing their best to notify travelers if weather conditions have caused them flight delays or groundings.
According to American Airlines, flight cancellations are not happening at the last minute, but rather in advance; this gives the company time to let travelers know before they head to airports.
American Airlines likewise issued a travel notice about the situation and is assisting customers with flight rebookings.