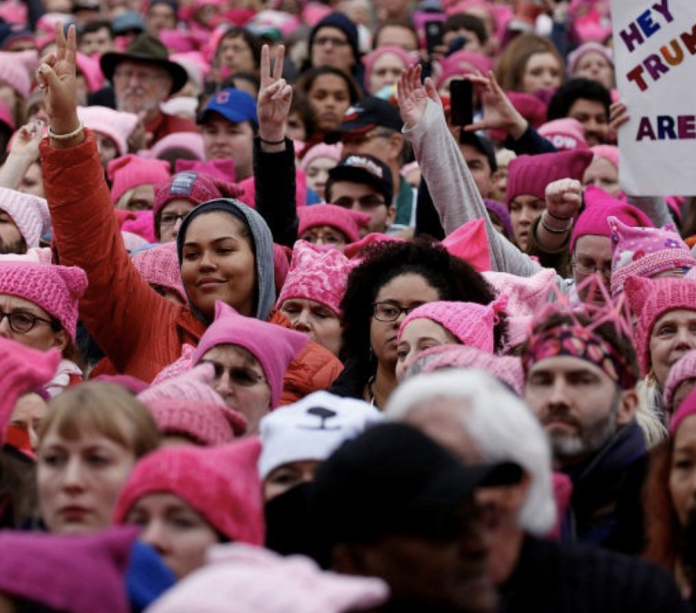 Over the weekend, Americans learned of the cancellation of a previously planned Women's March event in Eureka, California. However, the reason behind the cancellation has earned lots of press and prompted various reactions.
The Reason Behind the Axed Women's March
Prior to its cancellation, the California Women's March was set to take place next month. However, Beth Ann Wylie of the Women's March Eureka, California Facebook group released an official statement notifying people that the march will not take place. Although Wylie's official statement can be viewed here, notable excerpts read as follows:
"Up to this point, the participants have been overwhelmingly white, lacking representation from several perspectives in our community."
Wylie then explained some of the goals of the group:
"Our goal is that planning will continue and we will be successful in creating an event that will build power and community engagement through connection between women that seek to improve the lives of all in our community."
The Facebook post has earned multiple reactions, although laughter is the most common response, as seen on Wylie's post.
The Women's March, Democrats, and Identity Politics
The Women's March is no stranger to criticism. Many Americans regard them as a very liberal organization which only supports left-leaning women. Various leaders of the Women's March have also faced accusations of ties to anti-Semitism.
Democrats as a whole are very familiar with accusations of identity politics. Conservatives and others within the right-wing maintain that Democrats are more concerned about the groups which people fall into, as opposed to the individuals themselves. However, the left has pushed back against these accusations; according to many liberals and progressives, their goals are equality and the fair treatment of all.
Over the past weekend, conservatives have weighed in with their thoughts behind the cancellation of the California Women's March. Many claimed that the reason behind the axing of the march is silly. Others questioned whether or not Wylie's announcement served as a dig towards white women. Some of the commentaries are visible on various social media platforms, such as Twitter.
No White Women Allowed @womensmarch https://t.co/TXuJqqRgiz

— Deplorable Debinee ❌ (@DAColdriver) December 31, 2018
So the white liberal woman's march was canceled because it was too obvious about its motives? To abort minority children and keep minorities dependent on welfare. Truth is a difficult pill to swallow isn't it? https://t.co/N1s1Kt2cfv

— Ken Wonderly (@kgwonderly) December 31, 2018
@womensmarch I know it's a terrible blow to have to cancel your march because there are too many white people. I have a solution though. Just get at least half of them to identify as a minority and then, boom, problem solved.

— The Eye's Mind (@TheEyesMind2) December 31, 2018
Various Women's Marches have previously faced backlash for lacking diversity amongst speakers.