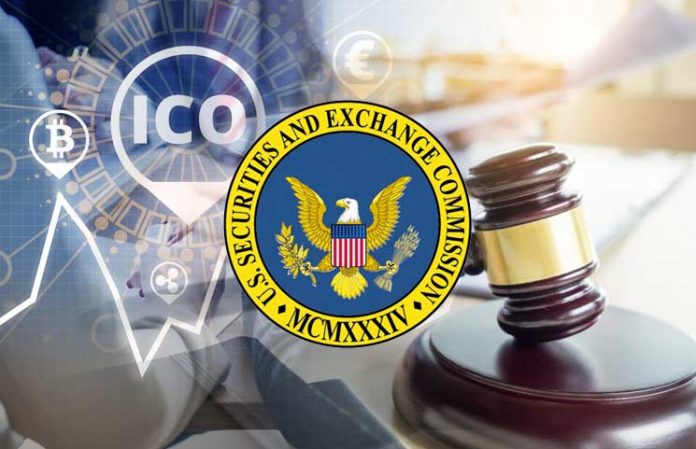 Shipchain Initial Coin Offering (ICO)
Interest in Shipchain's ICO cryptocurrency exploded in the past year.  Starting around December of 2017, almost every day another new promoter of the "Shipcoin" launched yet another article claiming that the Shipchain ICO was a revolutionary platform.
In fact, this Forbes article, which was later taken down by the Forbes staff, claimed that Shipchain was a "handful of blockchain platforms poised to do things even the Internet couldn't accomplish."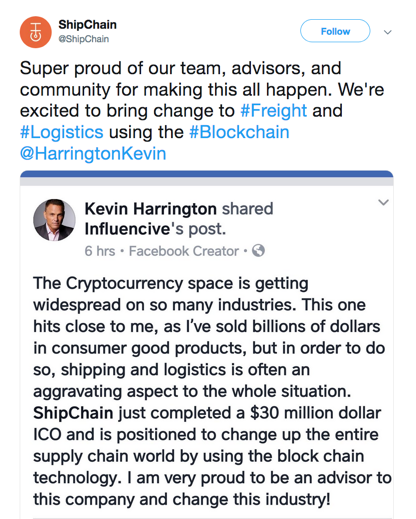 Additionally major influencers like Shark Tank star Kevin Harrington helped promote Shipchain's ICO to investors.  What was Kevin Harrington's compensation for promoting Shipchain's ICO?   Was that compensation disclosed to the Shipchain ICO investors?
In the past year other influencers such as Floyd Mayweather and DJ Khaled also promoted ICOs, only to get charged by the SEC:
The Securities and Exchange Commission said they are the first cases to charge touting violations regarding ICOs, a relatively new phenomenon that has attracted billions of investor dollars to new cryptocurrencies, often with little to back them up.
Mayweather didn't disclose a $100,000 promotional payment from Centra Tech Inc., while Khaled didn't disclose a $50,000 payment.
The two men settled the charges without admitting or denying the findings. The SEC says its investigation is ongoing.
The internet is filled with offers of new tokens with names that seem calculated to suggest solidity and reliability: Civic, Paragon, Blockchain Capital. Weighty Latin and Greek names like Veritaseum or Gnosis are also a popular way promoters aim to inspire confidence in a new token.
But despite the broad range of colorful token names, the basic structure of initial coin offerings is often essentially the same.  A "White Paper" of some 15 to 20 pages lays out the projected purpose for the token, the technology behind it, the biographies of the promoters, and the sales goals the promoters have set for the token. The White Paper is posted on a flashy website, and the promoters open up a sale of the token to the public for a limited time period.
In essence, an initial coin offering is nothing more than an offer of investment opportunity. The sale of crypto tokens is called an "initial coin offering" (ICO) because it so closely resembles an initial public offering of stock.
According to announcements from Shipchain on their ICO, people invested approximately $30 million dollars in the Shipchain ICO.   According to Coin Market Cap, the Shipchain ICO is down nearly $28.8 million dollars this year, leaving investors in the ICO with virtually nothing.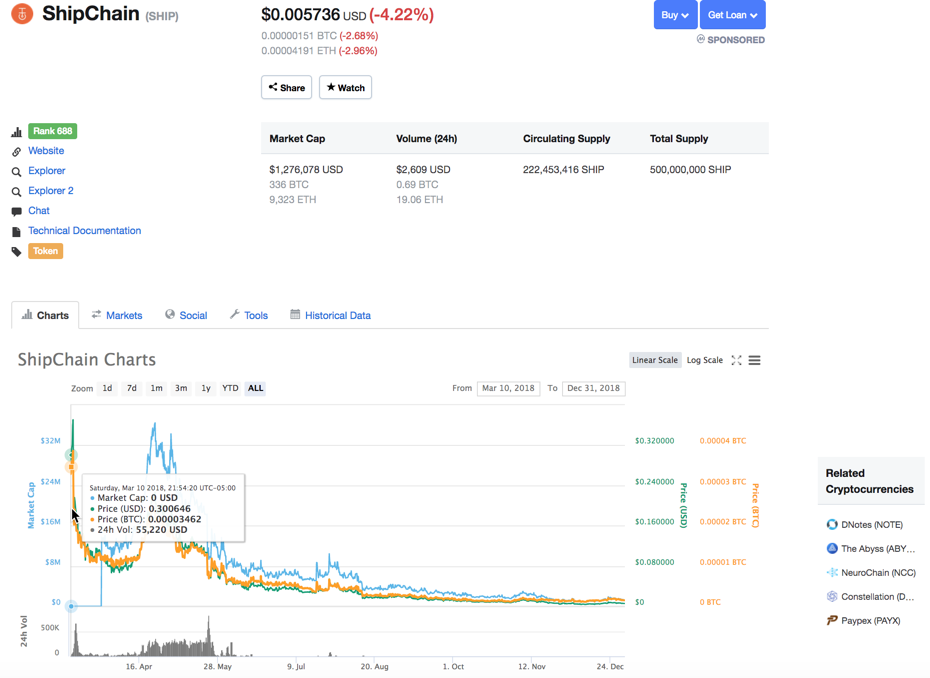 Investors in the Shipchain ICO have taken to the internet to lament of their fortunes lost, many directing their complaints to Shipchain CEO John Monarch: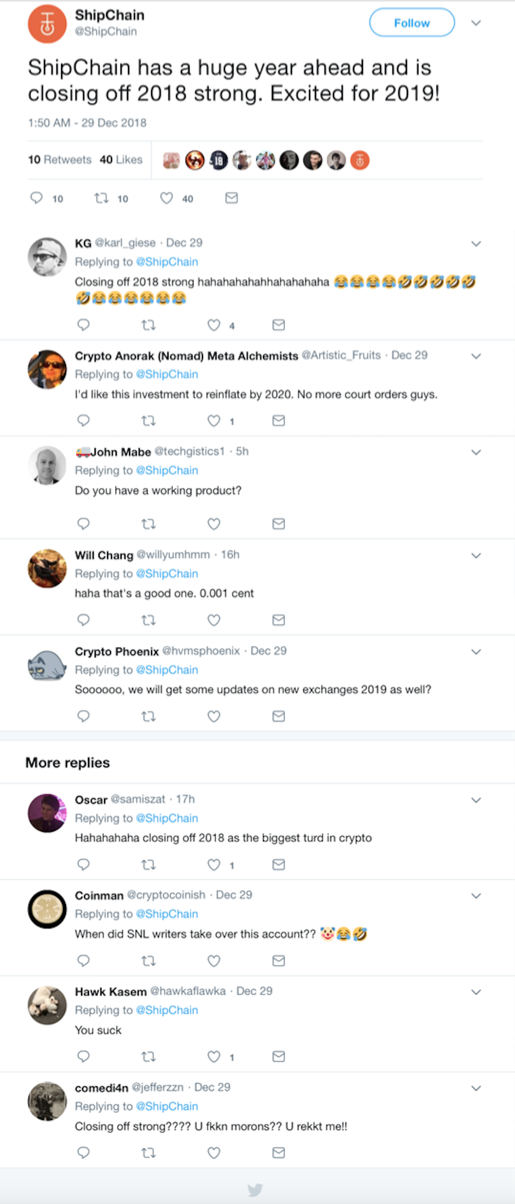 The Rush to Invest in ICOs and Risk of Investment
Earlier this year, investments in ICOs were all the rage. Enthusiasm for new cryptocurrencies was fueled largely by the well-publicized success of Bitcoin, which has lost approximately 80% of its value this year.
Everybody who had missed out on Bitcoin wanted a chance to get in on the action, and get in fast on the new ICOs.  It is easy for investors to get caught up in the urgency and hype of the crypto marketplace and hastily sink their money into the latest ICO, without much information about the token or its promoters.
Unfortunately, investors also are not aware that initial coin offerings may be taking advantage of their novelty to quietly evade federal and state regulatory systems that are designed to protect investors from fraud.
In many instances, purchasers of coins in a new ICO receive nothing in exchange for their contributions but the promoter's promise to build some online service for which the coin will be the accepted currency.  But so far, most of these services are still not up and running.
When a promoter abandons the project or simply fails to complete it, the investor's entire financial contribution is in jeopardy. There is risk in all investments, but an investment that dodges regulatory oversight destroys the level playing field between promoter and investor by stripping investors of legal protections.
How Can the Law Protect ICO Investors?
What can investors do when an ICO promoter jumps ship or drags his feet in making good on his promise?
What legal options do investors have when they discover that an ICO promoter has misled or deceived them?
How does the law protect investors from fraudulent and unfair ICO practices?
In December of 2017, the Securities and Exchange Commissionissued an alert about initial coin offerings.  The SEC noted that not a single promoter of an initial coin offering had filed the necessary securities registration paperworkwith the Commission. Yet many ICOs look and behave like securities even if they go by new names or employ complicated technology. And many ICOs meet the legal definition of a security.
An ICO might claim that its token is not a security at all, but "utility token" that provide investors with current or future access to a product or service. However, as the SEC has recognized, "merely calling a token a 'utility' token or structuring it to provide some utility does not prevent the token from being a security."
Under securities laws, a promoter's sale of a security that has not been registered with the SEC and does not qualify for exemption from registration confers legal rights on investors. One of those rights is the right of rescission. To put it simply, an investor who bought a security from a promoter who ignored registration requirements has a right to the return of his investment.
SEC orders cryptocurrency companies to return money to ICO investors in groundbreaking settlement
Two cryptocurrency companies have been ordered to offer money back to investors who participated in their ICOs, setting a precedent for future cases.
The two companies — Paragon Coin and CarrierEQ — came to settlements with the U.S. Securities and Exchange Commission and will each have to pay fines of $250,000. In addition to returning funds to investors, the two companies will have to file financial statements and other documents that give prospective investors a window into the health of the business, a first for an ICO case.