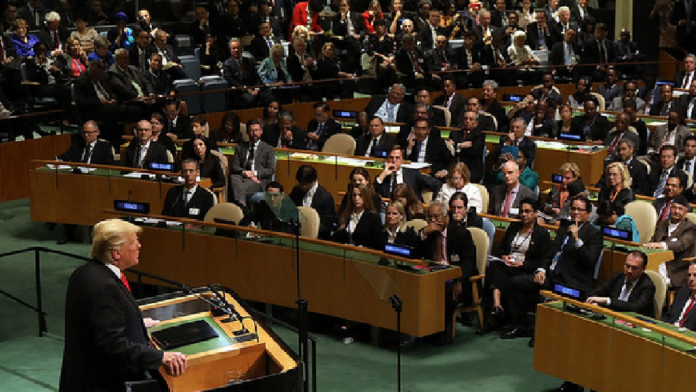 World leaders greeted President Donald Trump's speech to the United Nations Tuesday with laughter. The president, however, highlighted his administration's achievements thus far.
Trump's Speech
Notable remarks from Trump's speech include the following.
"The U.S. will not tell you how to live and work or worship. We only ask that you honor our sovereignty in return."
"We reject the ideology of globalism and we embrace the doctrine of patriotism."
"America will always choose independence and cooperation over global governance, control and domination."
"[The U.S. military is] more powerful than it has ever been before."
"[In] less than two years, my administration has accomplished more than almost any administration in the history of our country."
He reminded the General Assembly of his achievements in speaking with Kim Jong Un of North Korea. He then called for help putting pressure on Iran. "We ask all nations to isolate Iran's regime as long as its aggression continues."
Reception from World Leaders
After only a few sentences, world leaders began chuckling and laughing at the president's remarks. Trump appeared to be flustered at first, but then said that even though the laughter wasn't the reaction he expected, "that's all right."
Trump's remarks regarding American independence flew in the face of other U.N. officials' remarks urging cooperation. Leaders cite Trump's actions thus far as troubling. He removed the U.S. from the Paris climate accord. Trump also imposed or raised tariffs on imports. He renegotiated NAFTA.
Trump argues that his policy changes have been for the good of America.
The world leaders, however, were also well aware of Trump's current domestic problems. Among them are the sexual assault allegations against his Supreme Court nominee, Brett Kavanaugh. Deputy Attorney General Rod Rosenstein also made headlines last week. It was reported that he considered secretly taping the president's private comments and then invoking the 25th Amendment. The Amendment says that if the majority of the cabinet, the vice president, and the Speaker of the House vote that the president is unfit for duty, the vice president can fill his or her role.
Trump's Response
Trump put a positive spin on the laughter he received. After the speech, he told reporters, "Oh it was great. Well, that was meant to get some laughter so it was great."