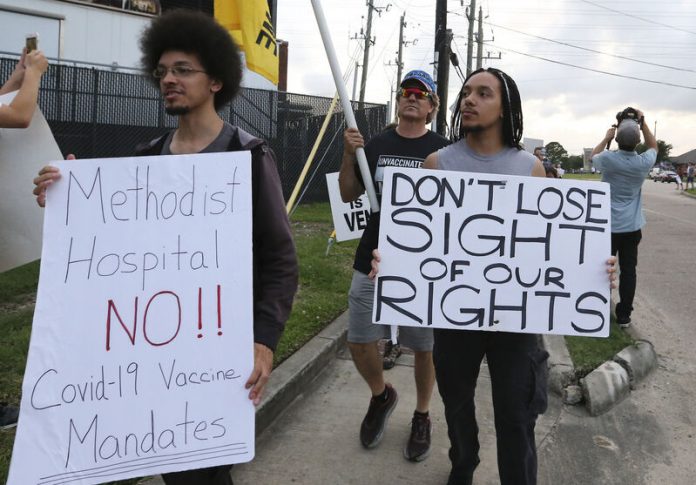 The Houston Chronicle reported that 153 employees of a Houston medical system were fired or resigned because they refused to take the COVID-19 vaccine. The anti-vaccine employees include nurses and other medical staff working in Houston Methodist. All employees were given till midnight Tuesday.
In April, Houston Methodist Hospital became the first hospital to require COVID-19 vaccinations of its workers. Methodist has more than 25,000 employees working across Texas. Anyone not providing proof of vaccination by June 7 or did not apply for an exemption faced suspension without pay for two weeks.
Two managers were previously fired for refusing the vaccine. 178 other staff members were suspended on June 7. 285 of the staff ultimately received medical (including pregnancy) or religious exemptions from the vaccine. 
Any employees that were not vaccinated were given until midnight Tuesday to comply. And they were terminated on Wednesday if they had not already quit their jobs.
Anti-vaccine case makes its way through Courts
This was the first case of mass employee terminations since vaccinations started in the U.S. It is reinvigorating a national anti-vaccine movement. And the federal courts are involved.
Last month, Jennifer Bridges, a nurse at the Houston hospital along with 116 other suspended employees sued in federal court. They allege COVID-19 vaccines are still experimental despite the approval by the U.S. Food and Drug Administration for emergency use. 
The lawsuit argues that vaccine mandates violate the Nuremberg Code of Ethics, created after World War II so that human experiments conducted by the Nazis would not happen again.
Earlier this month, Texas U.S. District Judge Lynn Hughes dismissed the employees' case against the hospital And rejected their argument that staff was being forced to take an experimental vaccine.
"This is not coercion. Methodist is trying to do their business of saving lives without giving them the COVID-19 virus," Judge Hughes wrote. "It is a choice made to keep staff, patients, and their families safer."
The Methodist employees then appealed to the U.S. 5th Circuit Court of Appeals. And with no precedents, the ruling could take some time. It appears it will be a national legal battle involving personal medical freedom versus public health.
Hospital responds to criticism
Dr. Marc Boom, Methodist's chief executive, issued a statement after the lawsuit was dismissed. He said that because Houston Methodist is the first hospital to require the COVID-19 vaccine they expected some backlash.
"Criticism is sometimes the price we pay for leading medicine," Boom claims.
"Our employees and physicians made their decisions for our patients, who are always at the center of everything we do. They have fulfilled their sacred obligation as healthcare workers," his statement repeated.