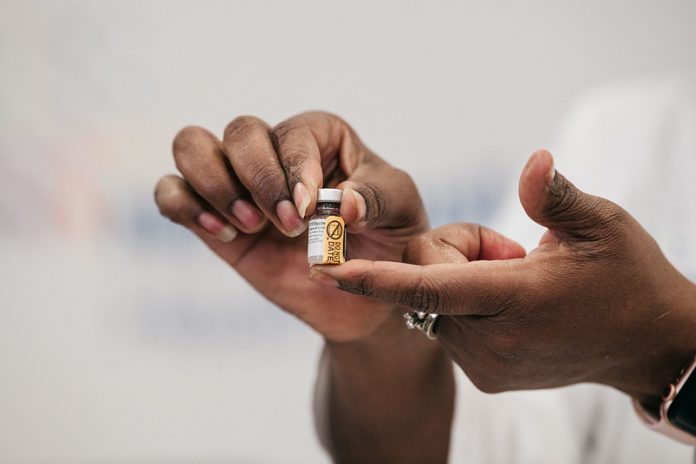 Two health care workers at an Alaska hospital developed allergic reactions just minutes after receiving the Pfizer COVID-19 vaccine this week.
The first worker, a middle-aged woman, experienced an anaphylactic reaction that started 10 minutes after she was injected with the vaccine at Bartlett Regional Hospital in Juneau. The worker also reportedly suffered shortness of breath and an elevated heart rate.
Dr. Lindy Jones, an attending physician at Bartlett Memorial Hospital, said the worker was taken to the emergency room after experiencing shortness of breath.
"I was concerned about an anaphylactic reaction so gave her the standard treatment of a dose of intramuscular epinephrine and she responded immediately," Jones said in a news briefing.
The worker had no previous history of allergies to vaccines.
"She was still enthusiastic that she got the vaccine and the benefits it would give her in the future," Jones said. The hospital's statement said the worker was "still encouraging her colleagues to get the vaccine."
Another worker experienced an allergic reaction
A second health care worker, a male, experienced a less-serious allergic reaction to the Pfizer COVID-19 vaccine at the same hospital on Wednesday. He still hoped that his experience would not affect the vaccination program in the area.
Just 10 minutes after receiving the vaccine shots, he experienced "eye puffiness, lightheadedness, and scratchy throat," according to Bartlett hospital's statement. "His reaction was not considered anaphylaxis."
"He felt completely back to normal within an hour and was released after treatment with epinephrine, Pepcid, and Benadryl," the hospital said. "He too does not want his experience to have a negative impact on his colleagues lining up for the vaccine."
Bartlett hospital said 144 workers were vaccinated on Wednesday.
Dr. Jay Butler, Centers for Disease Control and Prevention deputy director for infectious diseases, said the two hospital workers are the United States' only cases of allergic reactions to the BioNTech-Pfizer vaccine so far.
The United States' first batch of the BioNTech- Pfizer COVID-19 vaccines started arriving on Monday morning.
The U.S. Health and Human Services (HH) Secretary Alex Azar said on Wednesday that authorities and Pfizer are ramping up efforts to boost production capacity for COVID-19 vaccines.
He made the statement after the pharmaceutical company disclosed experiencing production challenges.
—————————————-
Have a story you want USA Herald to cover? Submit a tip here and if we think it's newsworthy, we'll follow up on it.
Want to contribute a story? We also accept article submissions – check out our writer's guidelines here.