A day after topping the $20,000 mark for the first time, Bitcoin hits another all-time high new record of $23,000. This was in conjunction with the Bitcoin options daily trading volume crossing the $1 billion. Many experts predict it will reach $55.000 in the near future.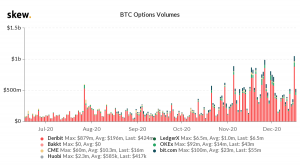 BTC/USD weekly chart (Bitstamp). Source: Tradingview
Scott Minerd the chief investment officer for Guggenheim Investment says that the Bitcoin should be worth $400,000." It's based on the scarcity and relative valuation such as things like gold as a percentage of GDP." He told Bloomberg.
Guggenheim is a key player among the institutional contributors to the value and legitimacy of Bitcoin. The company is planning to reserve 10% of its $5.3 billion Macro Opportunities Fund, to invest in Grayscale Bitcoin Trust. The interest showcased by the financial institutions contributed enormously to the high demand for the cryptocurrency, which in return due to its scarcity makes it more valuable. In addition to that, the exchange heat maps show no orders trades higher than $22.000, and this is an indicator that the digital currency's value is likely to go higher.