A day after topping the $20,000 mark for the first time, Bitcoin hits another all-time high new record of $23,000. This was in conjunction with the Bitcoin options daily trading volume crossing the $1 billion. Many experts predict it will reach $55.000 in the near future.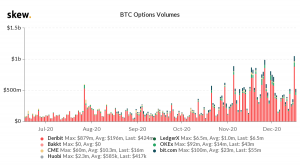 BTC/USD weekly chart (Bitstamp). Source: Tradingview
Scott Minerd the chief investment officer for Guggenheim Investment says that the Bitcoin should be worth $400,000." It's based on the scarcity and relative valuation such as things like gold as a percentage of GDP." He told Bloomberg.
Guggenheim is a key player among the institutional contributors to the value and legitimacy of Bitcoin. The company is planning to reserve 10% of its $5.3 billion Macro Opportunities Fund, to invest in Grayscale Bitcoin Trust. The interest showcased by the financial institutions contributed enormously to the high demand for the cryptocurrency, which in return due to its scarcity makes it more valuable. In addition to that, the exchange heat maps show no orders trades higher than $22.000, and this is an indicator that the digital currency's value is likely to go higher.
" The supply of bitcoin is limited to 21 million, giving it its anti-inflationary trademark. The token's scarcity together with the Federal Reserve's "rampant money printing" suggests its price should rise to $400,000, our fundamental work shows that Bitcoin should be worth about $400,000″. Minerd told Bloomberg on Television.
What's the risk
Although many experts are optimistic about the future of Bitcoin, it's important to stress the risks of investing in the digital currency. Bitcoin owes its value to the limited supply of tokens and the growing demand for it, therefore making the price higher whenever the demand for the currency grows. Another reason apart from the limited supply and high demand is the financial institution's interest in the cryptocurrency, some firms started to prefer Bitcoin on behalf of gold.
However, cryptocurrencies are risky investments, If the demand for these tokens drops to zero, the Bitcoin and all other cryptos will have no value at all. That being said, millions if not billions of dollars will turn to ashes.
—————————————-
Have a story you want USA Herald to cover? Submit a tip here and if we think it's newsworthy, we'll follow up on it.
Want to contribute a story? We also accept article submissions – check out our writer's guidelines here.