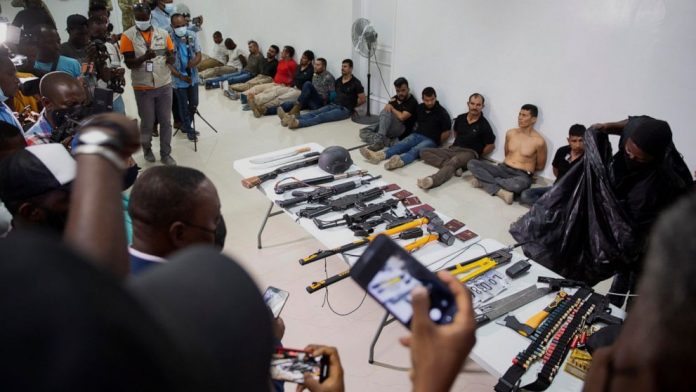 Haiti's National Police claim they have identified those responsible for the assassination of Jovenel Moïse. The Haitian President was murdered at his residence in Port-au-Prince on Wednesday. 
The "highly trained and heavily armed group" that killed Moïse critically wounded Martine Moïse, the President's wife. She is being treated for her injuries in Miami, Florida. 
According to "Le Nouvelliste" the Haitian newspaper, Moïse was shot a dozen times. And his bedroom and office were ransacked.
Moïse's daughter, Jomarlie Jovenel, was hiding in a bedroom during the attack. A maid and another staff worker were tied up and briefly held by the attackers.
International Suspects
The AP is reporting 17 suspects are currently being held by Haiti authorities. During a police press update, the handcuffed suspects were sitting on the floor with their weapons on display for reporters. 
Haiti's National Police Chief Léon Charles said Thursday night that 15 of those being held are from Columbia. And two of the suspects have dual US-Haitian citizenship.
Chief Charles claims eight suspects are still at large. And now says that only three of the commandos have been killed by police. Earlier in the day, Charles said seven were killed.
"We are going to bring them to justice," the police chief emphasized.
The Haitian Americans were identified by Haitian officials as James Solages and Joseph Vincent. Solages, at age 35, is the youngest of the suspects. And his website self-describes him as a "certified diplomatic agent," an advocate for children, and a budding politician.
Canada has confirmed that Solages was "briefly employed as a reserve bodyguard" at the Canadian Embassy in Haiti.
International Cooperation
Colombia's government said it is cooperating with Haitian authorities at the highest levels. And they have identified at least 6 of the commandos, including 2 of those killed, as ex-soldiers who served in Columbia.
The State Department in the US said it was aware of reports that Haitian Americans were in custody but could not comment.
Meanwhile, Taiwan's foreign ministry reported that the Haitian police arrested 11 armed suspects who attempted a break-in at the Taiwanese embassy early Thursday. No details were given.
Haiti maintains diplomatic relations with Taiwan and not with the CCP of mainland China in Beijing.
"As for whether the suspects were involved in the assassination of the President of Haiti, that will need to be investigated by the Haitian police," Foreign Affairs spokesperson Joanne Ou told the press in Taipei.
A country in chaos
Interim Prime Minister Claude Joseph is now asking people to reopen businesses and go back to work. He also ordered the International Airport to resume operations.
Haiti has long suffered from terrible poverty, violence, and political instability. In recent years the influence of gangs has contributed to the upheaval. Last month it is estimated that 14,700 were displaced when their homes were burned and ransacked in an ongoing turf war by gangs.
The gangs are a force to be reckoned with. And since the presidents' assassination, nobody knows if the Haitian security forces can hold them off.
The Moïse presidency has only heightened the problems. He had been ruling "by decree". And there have been violent protests and calls for him to resign.
Robert Fatton, an expert on Haitian politics says "It's a really explosive situation," he said.