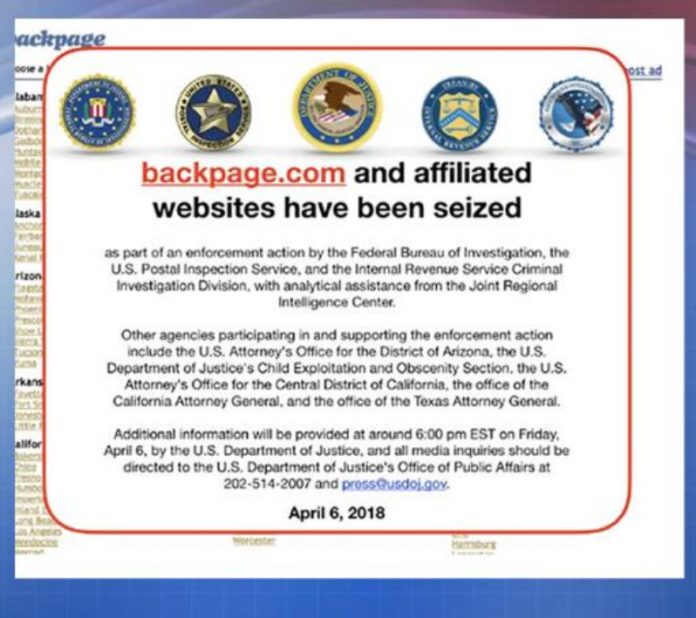 On Friday, USA Herald reported the FBI's seizure of Backpage.com. However, on Monday, additional news of indictments made against executives and founders of Backpage came to light, documents The Hill.
An Overview of the Seizure of Backpage
Backpage, a platform widely regarded as seedy, is most infamous for its enablement of sex work and prostitution. However, Friday's seizure occurred after an investigation unearthed Backpage's involvement in the sex trafficking of children and others. The FBI along with other agencies (Child Exploitation and Obscenity Section of the Department of Justice, U.S. Postal Inspection Service, Criminal Investigation Division, and the Internal Revenue Service) collectively engendered the deserved demise of Backpage.
The downfall of the platform has engendered considerable feedback, especially on social media. Some people have expressed concerns about the economic and financial impact that will be made on sex workers. However, other individuals have countered the preceding worries, affirming that the safety and wellbeing of children come first.
On Monday, Attorney General Jeff Sessions provided the hereinafter remarks following the seizure of Backpage:
"For far too long, Backpage.com existed as the dominant marketplace for illicit commercial sex, a place where sex traffickers frequently advertised children and adults alike. But this illegality stops right now. Last Friday, the Department of Justice seized Backpage, and it can no longer be used by criminals to promote and facilitate human trafficking."
The Indictments of Backpage Founders
Yesterday, America learned that Backpage co-founder Michael Lacey and other executives of the platform are facing a grand total of 93 prostitution and money laundering-related indictments. Additional reports from USA Herald affirm that Lacey and co-founder Jim Larkin faced charges of conspiracy to obtain profits from prostitution on Friday. The FBI also raided the homes of both men in addition to shutting down Backpage.
What Do Americans Think Regarding the Seizure of Backpage?
The majority of people in this country appear understandably alarmed and disgusted regarding the charges and Backpage's enablement of child rape and sex trafficking.
Readers of The Hill chimed in with their thoughts in the comments section of the report:
"LOL @ you people trying to politicize this. I have news for you, sex traffickers don't care if your little girl comes from a Rep or a Dem home. This one affects everyone."
"Underage kids need [protection] from creepy adults who traffic[k] them."
"They better charge Facebook with this also, because there are prostitution rings there too."