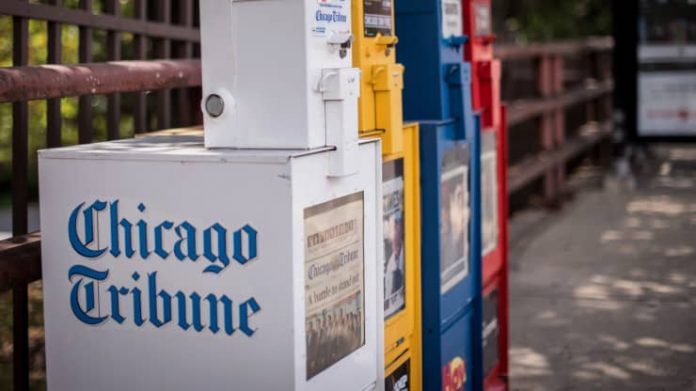 Alden Global Capital LLC, a hedge fund based in Manhattan, NY,  is seeking to purchase Tribune Publishing, the parent company of New York Daily News, Chicago Tribune, Baltimore Sun, and other assorted publications.
In a recent filing with the Securities and Exchange Commission (SEC),  Alden Global Capital disclosed its plan to purchase Tribune Publishing for $14.25 a share. Currently, the hedge fund holds a 31.6% stake in the publisher. As of today, Tribune Publishing is valued at approximately $470 million.
The hedge fund stated that it hasn't received any response from the Board of Directors of the publishing company regarding its letter of inquiry and non-binding acquisition proposal.
Alden's intentions to acquire the remaining shares of Tribune Publishing does not bode well for employees.  Critics pointed out that Alden has a history of making deep budget cuts to its own publications, potentially imperiling hundreds of jobs at local newspapers across the country.
The story of the East Bay Times 
In a 2020 article written for the Columbia Journalism Review, Savannah Jacobsen tells the story of the East Bay Times, a Pulitzer Prize-winning publication lauded for its "relentless coverage" of a massive fire that killed thirty-six people in Oakland, California. The paper covered the story in 2017.
The East Bay Times is owned by MediaNews Group (MNG), a conglomerate that owns over 90 local newspapers across the country. In 2010, Alden reportedly acquired a sizeable chunk of shares in MNG, giving it control over the East Bay Times along with 200 other newspapers.
Neil Chase, who was a senior editor for the Times beginning in 2016, describes what happened to the paper after its Pulitzer Prize victory: "A lot of folks assumed that the Pulitzer Prize means they're going to be happy with us and they'll [Alden] take better care of us, and we won't have more layoffs. And then a week or two later, we had to announce twenty people being fired."
He further added, "Winning a Pulitzer Prize doesn't change the economics of the company, so why would it change the attitude of the owners?".
Eventually, the East Bay Times saw the number of staffers on its payroll drop from 380 employees to 250. Upon Chase leaving the paper in 2018, the total number of staff was at a staggeringly low of 160. In other words, Chase's paper was utterly gutted, leaving employees with few alternative job options in an already declining industry.
As Jacobsen details in her expose: "Media observers note that they [Alden] make cuts almost from day one. Pens and notebooks disappear from newsrooms. One newsroom was missing hot water. Then newspaper buildings are sold, and [the] staff is consolidated and cut."
Alden's pattern of behavior when it comes to budget cuts, layoffs, and general downsizing can be seen not only at the East Bay Times, but also at other publications.
This points to a likely outcome for the publications under the wing of Tribune Publishing, whose fate will be quite similar.
Today's journalism is in crisis 
A 2019 Brookings report points to the wider crisis facing newspaper outlets across the country. It is reported that over 65 million Americans today live in jurisdictions with one local newspaper or none at all.
The traditional business model utilized by local newspapers has fallen by the wayside as advertising and subscription revenues continue to decline. From 2008-2018 advertising revenues declined by a whopping 68%.
As the pie continues to shrink, digital advertising attempts to fill the breach, albeit with little impact. At the end of the day, revenues are declining too rapidly for digital revenues to make up for revenue shortfalls.
The biggest competitors to traditional news outlets are social media giants Facebook and Google, who aggregate and distribute news content. Roughly 58% of national digital advertising revenues are earned by the two tech giants.
Looking at things locally, Google and Facebook hold 77% of revenues made in local markets, which effectively puts most shops out of business. To make matters worse:
"The local news crisis has also precipitated a general disengagement from local democratic life. As Americans have shifted away from local news, turnout in state and local elections has fallen, and communities that have lost reporters have seen fewer candidates run for local office," Brookings says.
Alden's potential purchase of Tribune Publishing is only another drop in the bucket in a much wider crisis currently gripping America. Today, Americans consume their news in an entirely different way, leaving thousands of local newspapers on the ash heap of history.
Will journalism return to its previous role as the Fourth Estate?
Have a story you want USA Herald to cover? Submit a tip here and if we think it's newsworthy, we'll follow up on it.
Want to contribute a story? We also accept article submissions – check out our writer's guidelines here.