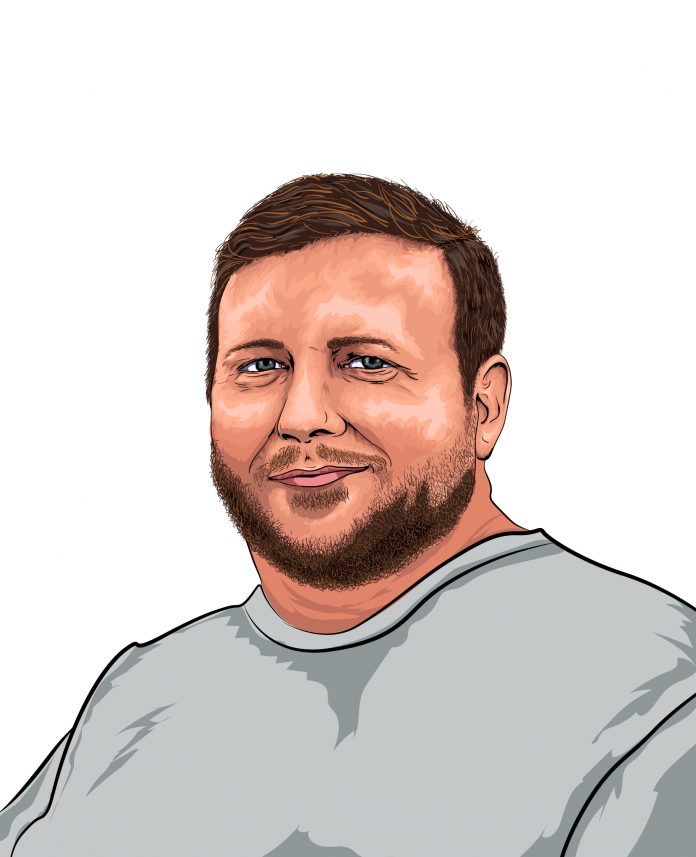 According to Vee Daniel of the Better Business Bureau, South Carolina businessman John Monarch's companies and a number of his clients have received complaints from consumers.
In a strikingly similar pattern, consumers allege they were scammed by a wide variety of diet, skin care, e-Cig, and sleeping aid "free trial" negative options that billed their credit cards for charges up to $500 without their consent.
Consumer complaint examples that link back to John Monarch's Direct Outbound Services:
"This has to be one of the biggest internet scams I have ever personally seen even if it is for relatively small amounts of money.  Why they continue to get away with this is mind boggling."
"They are a bait and switch, they offer the 30-day "risk-free" and 14-day trial, however the fine print is how they take advantage of you and charge you extra, including doubling shipping charges."

The FTC considers the phrase "negative option" or "free trial" to broadly refer to a category of commercial transactions in which sellers interpret a customer's failure to take an affirmative action, either to reject an offer or cancel an agreement, as assent to be charged for goods or services.  For a glossary of terms used by free trial merchants, read this article.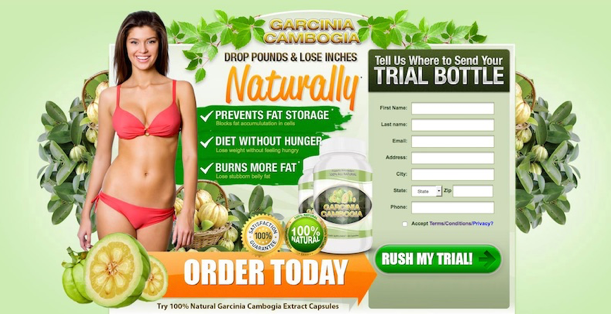 While "free trial" marketing is legal, there are a number of free trials that link back to John Monarch's business, Direct Outbound Services, that regulators have taken action on.
One such enterprise is Healthy New Beginnings, hereinafter HNB, an alleged scam that was shut down by the Florida Attorney General's office.   Consumers across the country have claimed that HNB billed their credit cards without their authorization for weight loss pills, laxatives, skin creams, and more.
John Monarch, through his company Direct Outbound Services, appears to have operated nearly every facet of HNB, including but not limited to assisting in the procurement of merchant processing, chargeback/AG/BBB complaint responses, USPS shipping, customer service, contract manufacturing, and possibly even its advertising.
Healthy+New+Beginnings

Yet the only person that appears to have had any liability when the Florida Attorney General took action against HNB was a man named "Jon Dorko."
What exactly did HNB owner Jon Dorko actually do?
According to Dorko's LinkedIn profile, it was Dorko that handled customer service, fulfillment, and merchant billing services.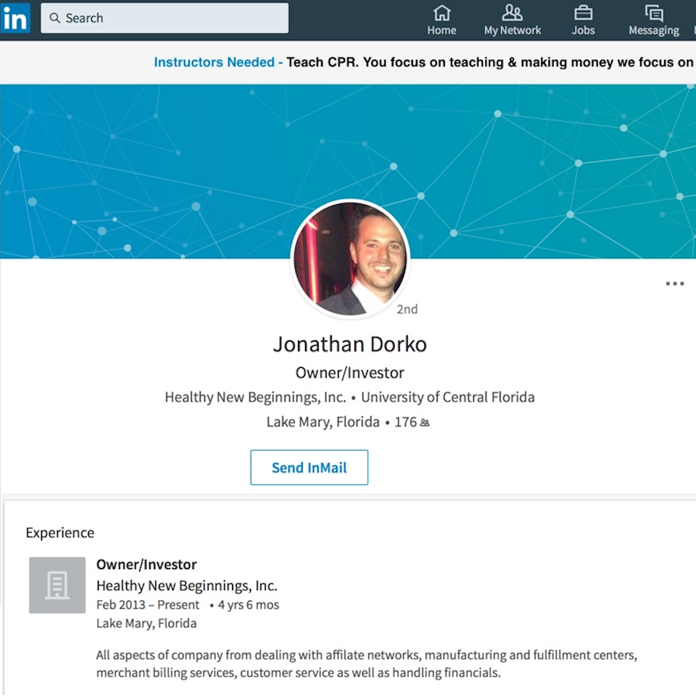 Yet the invoices to HNB from Direct Outbound Services appear to tell a different story.  In essence, it appears that  Direct Outbound Services made money from responding to consumer complaints to State AGs, the BBB, Visa/Mastercard, customer service, contract manufacturing, and more.
Direct Outbound Services bills to Healthy New Beginnings

It's curious to note that John Monarch's business partner and attorney, Aaron Kelly, is currently facing action by the Arizona Bar for his alleged role in manufacturing fake defendants for his clients to sue.   The Arizona Bar has also accused Monarch's business partner of creating fake notaries, as noted in this Washington Post article published by UCLA Law Professor Eugene Volokh.
That's not to say that Jon Dorko isn't a real person, instead it appears that Direct Outbound Services operated and billed for the very things that "Jon Dorko" claims to have managed.   In other words, notwithstanding Dorko's role as a "signer" on the merchant accounts and contracted operational services at Direct Outbound, it's hard to tell exactly what Dorko's actual role was in the alleged HNB scam.
Healthy New Beginnings Ties To John Monarch - Direct Outbound

After Jon Dorko stopped operating the sophisticated HNB free trial program, he parlayed all of his operational skills into becoming a lawn specialist for Trugreen.   A lawn specialist?

How does Jon Dorko go from making millions one day as a free trial merchant to a lawn specialist the next?
It's not as-if Jon Dorko was indicted or had all of his assets seized.  With millions of dollars generated it seems that Dorko could have easily moved onto a new venture that utilized his operational know-how in fulfillment, merchant processing, call centers, and direct marketing, just like Jesse Willms did after his weight loss free trial scams were shut down by regulators.
In Willms case, unlike Dorko, all of his assets were seized.  Yet the deftness that has characterized his entire business career,  Willms was back at it just weeks later selling free trial programs to consumers seeking driving records, criminal records, and vehicle-history reports (just as Carfax does).
Was Jon Dorko just a front man signer in the HNB operation or was he indeed the mastermind behind the alleged scam that thousands of consumers reported to their credit card providers as fraud?
The credit card infrastructures that organizations such as HNB use to keep their billing operations going may have crossed the line from civil forfeiture risk to criminal bank fraud, a precedent that was recently set in the Jeremy Johnson case.
Jeremy Johnson used "signers", or dummy stooges that are nothing more than people used to open up Visa/Mastercard merchant accounts, to sustain a negative option billing scheme that defrauded consumers across the country.   Jeremy Johnson was eventually prosecutued and sent to prison for over 10 years.The HNB operation, much like Johnson's iWorks, utilized The United States Postal Service to ship unauthorized purchases to consumers, possibly placing HNB and its operators in violation of 940.18 U.S.C. Section 1341, also known as mail fraud.
There are two elements in mail fraud: (1) having devised or intending to devise a scheme to defraud (or to perform specified fraudulent acts), and (2) use of the mail for the purpose of executing or attempting to execute, the scheme (or specified fraudulent acts).
The statute of limitations for mail fraud and wire fraud prosecutions is five years (18 U.S.C. § 3282), except for mail and wire fraud schemes that affect a financial institution, in which case the statute is ten years (18 U.S.C. § 3293).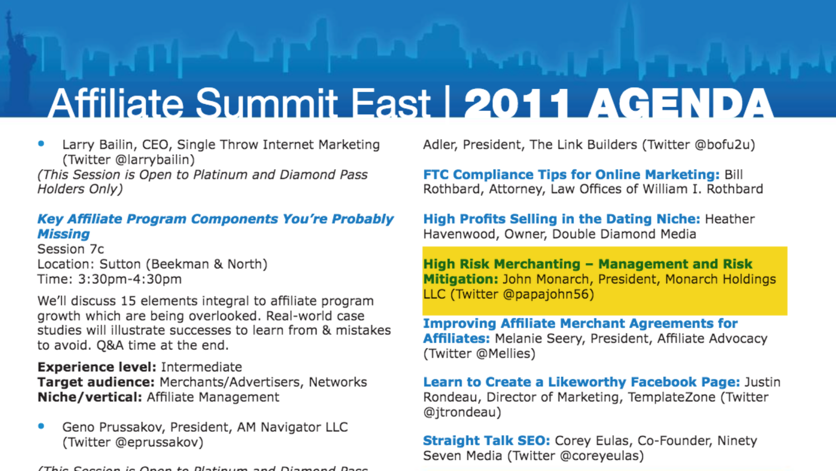 The below depositions of John Monarch indicate that Monarch created tools at Direct Outbound Services that appear to have helped keep the HNB negative option program operating. While thousands of consumers complained to their banks, the BBB, and State AGs that they were defrauded, Monarch's company billed HNB heavily to respond on its behalf.