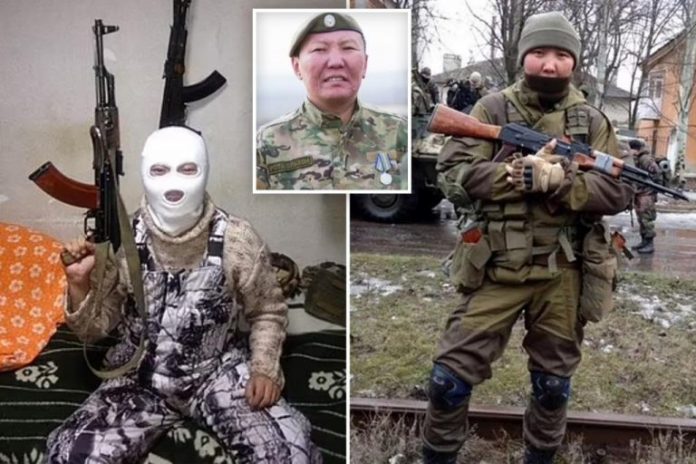 Social media reports picked up Russian newspaper articles claiming top Russian officer Vladimir Andonov, 44, has been killed by sniper fire in Kharkiv, Ukraine. He was also known as Vaha or "The Executioner."
Andonov was from the Siberian republic of Buryatia. His death notice appeared on the Peleng 03 telegram channel.
 "He died at night during the reconnaissance of the area, along with his comrade, presumably at the hands of a sniper." He was described in local news as the "most famous volunteer." 
Vaha, the executioner
As part of Putin's elite unit, the Wagner Group, Andonov earned the name, The Executioner.  The group has been linked to war crimes in Putin's special operations in Syria, Libya, and Ukraine.
The Executioner participated in all those campaigns. And was awarded a medal for military merit for outstanding service.
In a 2017 interview, he told the Gazeta he was a "shamanist." And that his prayers in battle would always keep him safe.  He claimed his faith was so strong it would always keep him safe from injury. 
In his role as a top general in the Wagner group, it is believed that Andonov was responsible for killing both unarmed prisoners of war and civilians.
The Ukrainian-run "Peacemaker" database, compiles Russian military crimes. The list says that in February 2015, Andonov may have been involved in the execution of prisoners of war in Ukraine in the Donbas region. He was known as a "Russian mercenary" and an "executioner."
Military top brass losses
Andonov is just the latest military commander from Putin's forces to die in the Ukraine war.
Within the last two weeks, two other Russian commanders were killed.  Major General Roman Kutuzov and Lieutenant General Roman Berdnikov, died in the Donbas region.
Kutuzov, commander of Russia's 5th Combined Arms Army was reportedly killed by Ukrainian artillery fire when he led an unsuccessful attack.
Confirmation of Berdikov's death was provided by Russian news outlet Volya Media.
The Russian Armed Forces are continuing to suffer high losses of senior commanders. The Kremlin has confirmed just three top commanders' deaths while Western media sources have put the number at least 12.