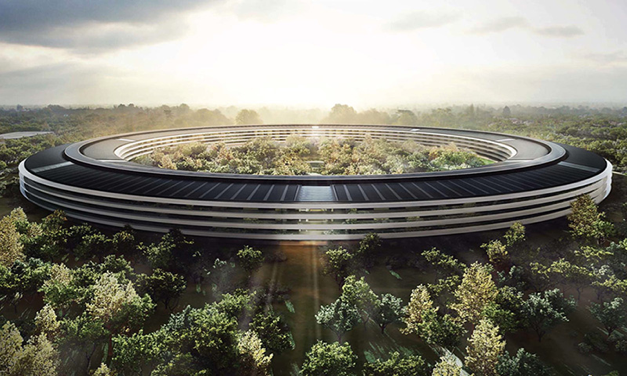 Apple has been building a new headquarters in Cupertino California, officially known as Apple Park. Construction of the new campus that extends over 175 acres is expected to be finished by the end of 2017.
The flying saucer-like building is over a mile around and surrounds an outdoor park. Apple executives believe that the new campus will enhance worker productivity, encourage innovation and benefit the environment at the same time.
Design determines function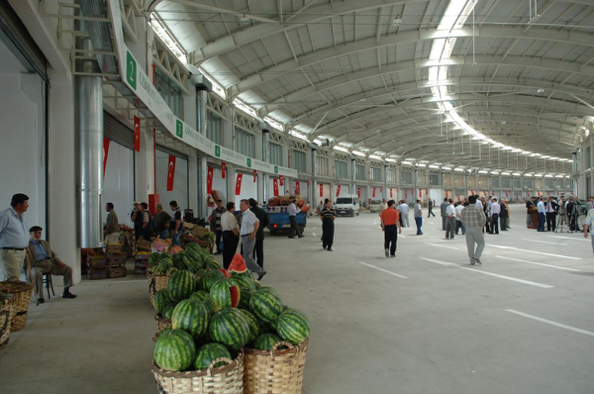 The layout of the building was carefully considered by London architects, Foster and Partners.  An open-plan layout with employees seated around long custom-designed tables is designed to foster collaboration between teams.  The architects took into consideration which teams would need to work together.
As seen in any product by Apple, the shape determines the function. Jobs' idea was to have modular sections or pods where people could work and collaborate. The pods would be repeated for office work, teamwork, and socializing. Not even the CEO would have his own suite.
Jobs envisioned employees sharing ideas across common spaces, brainstorming to bring about innovations and balancing this with areas of intense concentration. Connecting, collaborating, walking, talking and constantly feeling that connection with nature are the essence of what he intended for the new headquarters.
Prepared for the future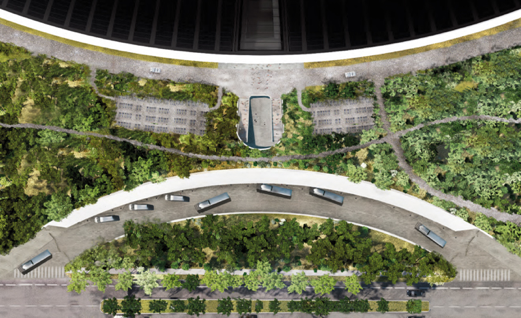 The building is one of the most energy-efficient in the world and runs entirely on renewable energy with thousands of solar panels.  A great level of attention has been given to every detail of construction, using top quality materials.
Steve Jobs wanted the Ring to be a 'breathing' building. Airflow is optimized as it inhales and exhales air efficiently so employees won't experience "sick building syndrome" here. It is even able to withstand earthquakes because it is mounted on steel base isolators that allow the building to move in all directions for a few feet without losing any services.
Employee Facilities
The three-quarter mile perimeter of the Ring has a walkway on the inner border, allowing employees to stroll around it. The building includes a 100,000-square foot wellness center with a gym, a two-story yoga room and access for employees to dental and medical services. They also have access to many walking and running paths.
Employees are able to get around campus on bikes (1,000 bikes on site) and they can use commuter shuttles and electric golf carts if they have further to go.
Connecting with nature
Steve Jobs did his best thinking while taking walks in nature and he wanted Apple workers to be able to do the same. The campus is surrounded by thousands of trees and has an orchard, a pond, and a meadow. A leading arborist was employed to help with the landscaping and to restore indigenous plants. Recycled water will be used and drought-tolerant plant varieties have been chosen.
Security
The Ring includes research and development facilities. Security and privacy are required so that new products can be invented and not even all the staff members will be allowed access to all parts of the building.
The only access the public will have is to a visitor center with an Apple Store and Café. Visitors will also be allowed into the Steve Jobs Theater, located on a hill, with an auditorium that can seat 1,000 and that will probably be the location for future product launches.
The critics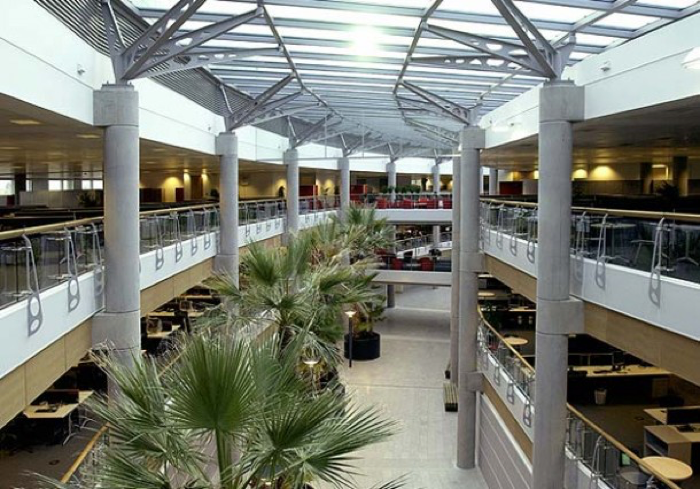 As Apple Park moves closer to completion, the voices of critics are growing louder. Some believe that the campus will be a "snobby, isolated preserve" They compare it to the large corporate headquarters of Amazon, Airbnb, and Twitter that have integrated into cities. Jeff Bezos of Amazon, for instance, believes in preserving an urban campus, no matter how large Amazon grows.
There is also a feeling that Apple Park is a model that is obsolete as it does little to address the working conditions of the future. Some critics believe it is too inflexible and has not taken into account potential changes in how, when and where people want to work
The vision
Apple executives are quick to defend what has been achieved at the new Apple headquarters.  They believe that the quality of every aspect of the building and thought given to the environment that surrounds them will inspire their workforce.
They believe it will motivate them to constantly aspire to more innovation and higher quality. The new headquarters is seen as a perfect reflection of what Apple stands for as a company.
What all the large companies do appear to agree on, despite where they are situated, is the necessity for their employees to have more exposure to nature. They believe that this will stimulate creativity and create a more relaxed work atmosphere. Another aspect they agree upon is the need for closer collaboration and connection between employees.