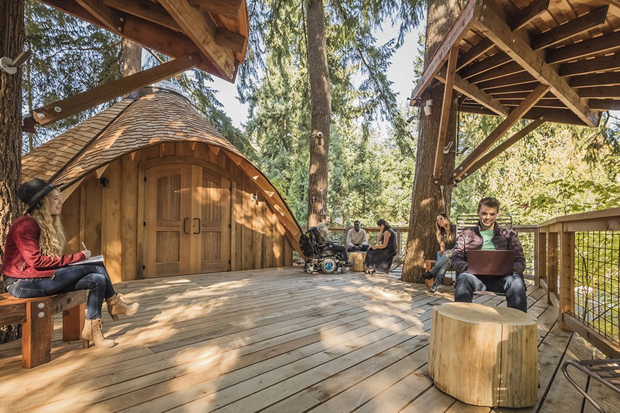 The Redmond headquarters of Microsoft is surrounded by 500 acres of forest. Recently Microsoft has built a new type of work environment for its employees – treehouses. These innovative, outdoor meetings spaces are designed to help employees collaborate and feel the impact of nature on their creativity and peace of mind.
Creative design
Peter Nelson, known for his TV series "Treehouse Masters" has been creating these outdoor meeting spaces. The buildings are made to expand as the trees grow and are expected to last over 20 years.
The first completed treehouse has charred wood walls, a high ceiling, and a skylight. Microsoft says it has a 'gingerbread house' feel. The hand-carved double door leads into a small room with a simple table and rust-red seats.
Many of the materials used are local or reclaimed and box benches, rust-proof rocking chairs, and an outdoor gas fireplace add to the impression of a sanctuary rather than an office space.
Employees can reserve the rooms for meetings and they are also able to work in the elevated roost, called the Crow's Nest, if they're looking for a change of scenery. The deck with cedar, weatherproof canopies jutting from tree trunks protects them from the elements.
There is even an indoor cafeteria extending outwards with a barbecue restaurant inside a shipping container.
Nature's effect on work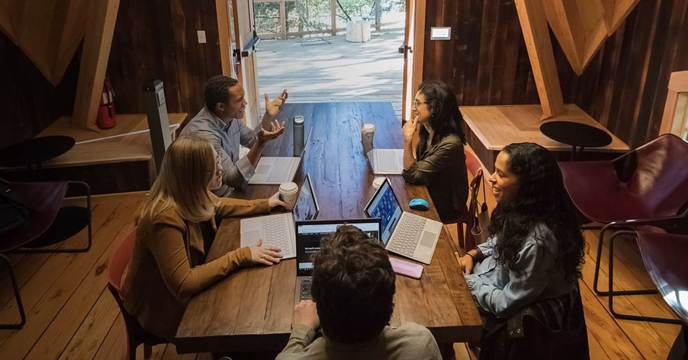 When the design team surveyed Microsoft employees and asked what they wanted, most of them said they would work outside more if they were given the chance.
Exposure to nature is well-known to enhance positivity, creativity and to restore the mind. Trees and plants, particularly in forests, secrete scents that enhance cognition, mood, and even immunity. Research has also shown that employees who are more exposed to daylight and nature are likely to take less sick days and to feel healthier.
Bret Boulter, one of the people who headed up the project, says "It's fascinating. People absorb the environment and it changes the perception of their work and how they can do it."
At the same time, employees are not sacrificing the reliable connectivity of traditional offices. The Wi-Fi network is a broad, outdoor one and every bench has hatches revealing electricity sources.
All of this is to help employees to work more productively and interact spontaneously in the workplace. Collaboration is seen as essential for sparking creativity and when it's done in a treehouse, innovative ideas are more likely to flow.
New ways to work and play
More projects like this are likely to happen as Microsoft plans to completely overhaul its existing campus. The updated campus will allow for about 8,000 new employees as well as the current 47,000 working at Redmond. These plans were announced soon after Apple opened its Apple Park campus and maybe they aren't quite as audacious but they also reflect a transformation in the way people want to work and connect.
Their focus will be on creating more friendly work and play spaces with walking and jogging trails, sports fields, a boulevard lined with trees and an open plaza that seats 2,000 where employees can gather to learn or to play.
The buildings will be energy-optimized and there will a cross-campus bridge for pedestrians and cyclists and car-free zones. The whole campus will be infused with top-notch technology.
Different Zones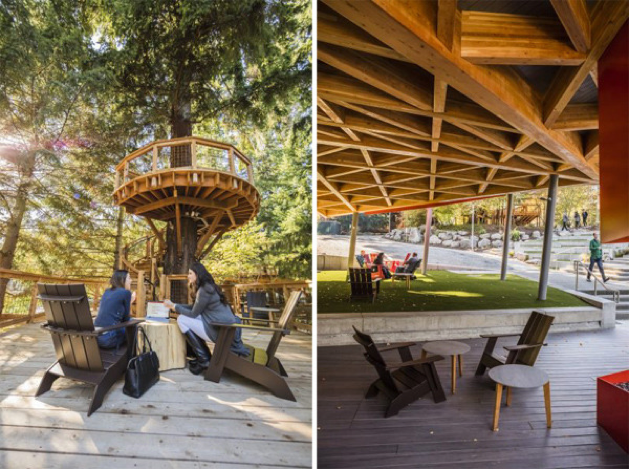 Focus and privacy will be able to be found in certain areas and inspiration can be found in other more open spaces. Collaborative team meetings can be held on comfy couches in rooms with scrum-friendly whiteboards.  Impromptu conversations can be held at work "neighborhoods" that will help fuel innovation, productivity, and faster development.
Employees will be able to work where they work best with a home base where teams can easily find each other. Each zone will vary according to a type of work and will support how projects progress from beginning to end.
The effect appears to resemble a sprawling university campus rather than being like Apple's new headquarters with its focus on a central building. It takes advantage of the urban environment, combining walkability, amenities, and nature to create a sense of community.
The big companies like Apple, Google, Microsoft, and Amazon obviously agree on the impact being exposed to nature can have on their employees. At Apple's new headquarters the whole building surrounds a park and there are thousands of trees on the property, a pond, and a meadow.
Amazon's situation in an urban setting hasn't deterred it and it has constructed large orbs right in the middle of high rise buildings on the city street. These orbs are called 'biospheres' and they contain endangered plants from all over the world. Their employees can work and hold meetings in the orbs, just as Microsoft's employees can now hold their meetings up in a treehouse. The way we work is definitely changing!