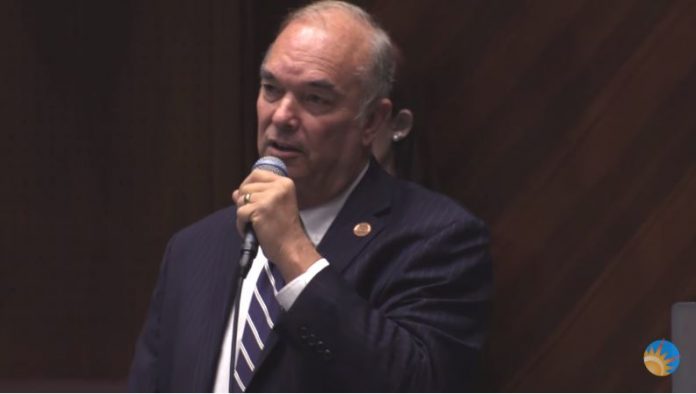 The Arizona House of Representatives approved a resolution to expel a Republican committee chairman facing multiple allegations of sexual harassment.
On Thursday, Arizona House Speaker J.D. Mesnard announced his decision to push for the expulsion of Cong. Don Shooter.  The Speaker's decision comes after Shooter's "continuation and escalation of his improper misconduct." Shooter is the chairman of the House Appropriations Committee.
Shooter violated Arizona House's policy against sexual harassment
Last year, Mesnard launched investigation into the sexual harassment allegations against Shooter and suspended him as committee chairman. The Arizona House hired outside investigators to investigate the matter.
On Wednesday, the Speaker released the results of the investigation. The investigators found credible evidence that Shooter violated the House's policy against sexual harassment and hostile work environment.
In their report, the investigators said Shooter "engaged in a pattern or unwelcomed and hostile conduct toward other members of the Legislature and those who have business at the Capitol."
Shooter's letter a "clear act of retaliation and intimidation"
Following the release of the investigative report, Shooter wrote a letter challenging certain part of the investigation. He stated that the investigation ignored a young woman's sexual harassment accusation against another lawmaker.
Shooter's letter prompted Mesnard to expel Shooter from his position. The Speaker said Shooter is trying to use the young woman as a pawn. His letter "does not reflect the individual's reaction to the report." He added that "he's not standing up for the victim but rather is further victimizing the individual."
"Rep. Shooter's letter represents a clear act of retaliation and intimidation, and yet another violation of the House's harassment policy, so I will be moving to expel him from the House of Representatives immediately."
In an interview with the Associated Press, Shooter said he deserves punishment. However, he argued that he did nothing to justify an expulsion.
When the voting for his expulsion began, Shooter said, "It's been my honor to represent the people of District 13. I have faithfully executed my duties. I've never taken bribes. I've never considered one way or another except on the merits of a bill."
Under the Arizona House rules, ousting a member requires two-thirds vote—40 of the 60 members. Fifty-six House members voted to expel Shooter. He and three other members voted against his expulsion.