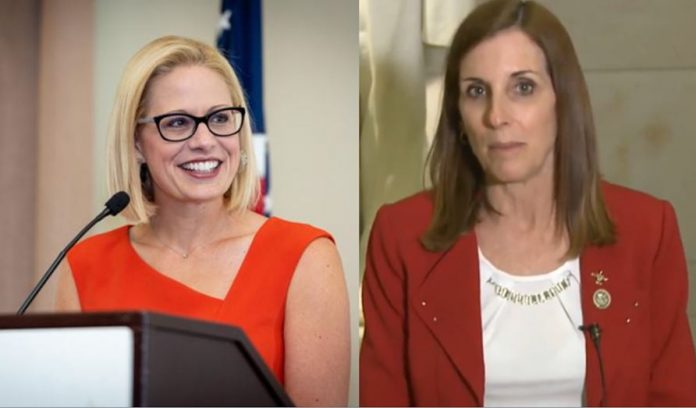 Democratic Rep. Kyrstren Sinema and Republican Rep. Martha McSally are in a very close race in Arizona to replace retiring Republican U.S. Sen. Jeff Flake, according o the latest NBC News/Marist poll.
On Tuesday, the survey showed that 48 percent of likely voters support Sinema while 45 percent favor McSally. The Democrat is only three points ahead, which means the candidates are statistically tie or within the margin of error.
Among all registered voters, 47 percent said they will vote for Sinema while 44 percent for McSally. The Democrat's advantage is the same. It appears that the Republican senate candidate continues to gain support. In June, Sinema had a double-digit lead against McSally among registered voters.
In August, President Donald Trump endorsed McSally. The president described her as "extraordinary woman" and a "very talented fighter jet pilot." He also stated that the Republican senate candidate is "strong on crime."
Martha McSally is an extraordinary woman. She was a very talented fighter jet pilot and is now a highly respected member of Congress. She is Strong on Crime, the Border and our under siege 2nd Amendment. Loves our Military and our Vets. Has my total and complete Endorsement!

— Donald J. Trump (@realDonaldTrump) August 29, 2018
The poll indicated that McSally's strongest supporters are those who support the president (86 percent ), men (53 percent), and whites without a college degree (53 percent).
 Arizona voters have a higher positive perception on Sinema than McSally
According to the survey, Sinema has a higher overall favorability rating than McSally.
Forty six percent of Arizona's likely voters have a positive view while 33 percent have negative perception of the Democratic candidate.
On the other hand, 40 percent of likely voters have favorable view and 40 percent have unfavorable view of the GOP candidate.
Sinema's strongest supporters are those under 30 years old (66 percent), whites with college degree (54 percent), latino (54 percent), women (53 percent), and independents (52 percent).
The Democratic Party is optimistic that Sinema will win the senate race in Arizona even if they haven't won the seat in the state since 1988.
A majority of likely voters (52 percent) in the state said they will vote for Democrats to serve as a check and balance on Trump. Thirty eight percent said they will vote for Republicans to help the president achieve his agenda.
Pollsters for the NBC News/ Marist Poll interviewed 950 adults in Arizona from September 16-20.