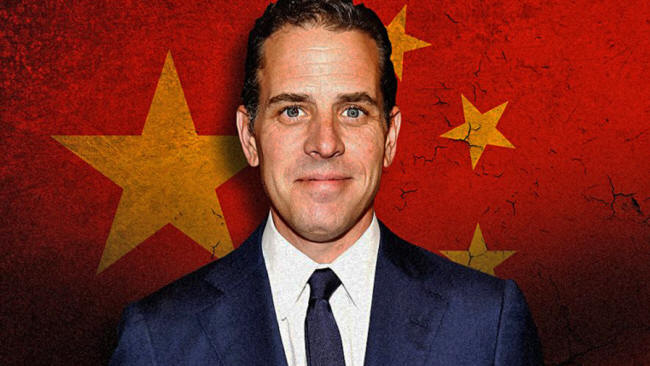 According to Power the Future founder Daniel Turner, President Biden sold one million barrels of oil from the nation's Strategic Petroleum Reserve (SPR) to the Chinese gas company that has been linked to his son, Hunter Biden.
Turner has been complaining that Biden's energy policies are leading to the 2-year steep increases in the price of gas at the pump. And that Biden's November 2021 sale of America's emergency reserve was a "terrible idea." 
And he emphasized that Biden's choice to funnel gas to China makes it an "outrageous sale." 
"This is pretty remarkable. Of all the gin joints in the world, of the oil companies in the world, we chose to use one company in China that Hunter Biden is a part-owner and investor, "Turner said.
"The next step is why are we selling it to the communist Chinese and then the third step is again, of all the oil companies that are brokering this deal, the one that the president's son is a part-owner investor? I don't know if he profited, I don't know if he got a commission, but it's just beyond curious and definitely worthy of a congressional investigation that his firm had a hand in this outrageous sale of our strategic reserves, "he added. 
Hunter Biden's ties to Chinese gas company
Biden's son's laptop has emails that reveal the president may have been compromised by Hunter's business ties. Chinese owned Sinopec is tied to Hunter Biden, whose private equity firm, BHR Partners, had a $1.7 billion stake in the company seven-years- ago.
There are also emails with wealthy Russians, Libyans, Mexicans, and government-connected companies where Hunter is promising access to his father for cash. Or telling the ultra-wealthy that he gave them access and now wants them to "reciprocate" with cash.
The FBI has had the laptop since 2019. And a secret grand jury was convened this Spring. But there has been minimal reporting on the contents.
Hunter's attorney told the New York Times last November that the president's son, "no longer holds any interest, directly or indirectly, in either BHR or Skaneateles."
In the meantime, Hunter Biden remains listed as a part-owner of the firm, as of March 2022.
"Business records from China's National Credit Information Publicity System accessed Tuesday continue to identify Skaneateles as a 10% owner in BHR, and Washington, D.C., business records continue to list Biden as the only beneficial owner of Skaneateles," according to the NY Times.
"The White House has routinely deflected questions about Biden's business dealings to his attorneys, who have remained largely mum."
"We've asked Weiss [US Attorney in Delaware] to pursue the larger network of individuals and institutions who benefited from millions doled out by foreign interests connected to Hunter Biden's work in China and Ukraine," Tom Anderson, director of NLPC's Government Integrity Project said.
Compromising U.S. energy security
When Biden came into office, he made good on his promises to shut down America's oil industry. And gas prices have been going up ever since.
The price at the pump has risen more than 45% since Biden ordered the first SPR release in November. The reserves have previously been maintained for emergencies. The reserves are often tapped in hurricane season. And last year they were required when there was a debilitating ransomware attack on the Colonial Pipeline.
Meanwhile, the Biden Energy Department is refusing all requests under the Freedom of Information Act probing Biden's use of the nation's strategic oil reserves. And last week, the Functional Government Initiative, a nonprofit watchdog, filed a lawsuit to compel the release of the records.
By the end of Biden's latest release from the emergency stockpile, the president will have depleted 260 million barrels from the nation's reserves.
 In May, the Department of Energy announced efforts to replace only 60 million barrels of what's been taken. 
There is currently authorized storage capacity of 714 million barrels. As of July 1st, only an estimated 492,000 barrels remained in storage.