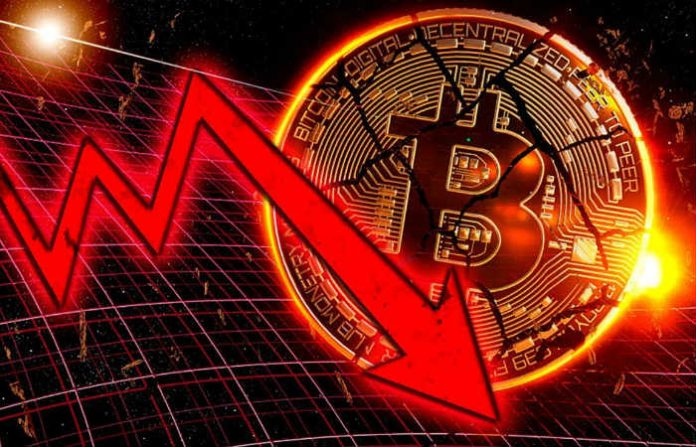 Bitcoin (BTC) had its most successful year in 2020 breaking many records in December, gaining 200% in 20 days. However, the rally was interrupted by a sudden drop in price.
According to Glassnode, $190 million in long position were liquidated in less than 15 minutes, and it's the largest value since Bitcoin's existence. The huge liquidation followed the Bitcoin's latest dip on Monday.
BTC dropped to $27,700 to rebound a few seconds later. The dip resulted in horrification, as it left a grave financial impact on some investors. That being said, the Bitcoin shed $4,000 in less than an hour and a total of $7000 in 24 hours, two days after it reached an all-time-high record of $34,000.
"$190,000,000 (in long positions) were liquidated on #Binance within 10 minutes. Largest value to date," Glassnode commented.
Nevertheless, Samso Mow CSO of Bitcoin technology firm Blockstream, said that the $5,000 dip is normal since the cryptocurrency is on its way to $100,000 price, he said: "Get used to 5k dips as we go to $100k. Comes with the territory." 
 "I know you guys aren't really panicking about #Bitcoin, but in case you are… One River ($1.6B fund) bought $600M & will buy $400M more Guggenheim ($5.3B fund) will buy $530M SkyBridge ($9.2B fund) bought $182M Ruffer ($27B fund) bought $744M MassMutual ($675B AUM) bought $100M." Mow added in another tweet.
Ironically, popular Bitcoin traders such as Dan Held, suggested that the Bitcoin dip was a chance to buy the coin and the investor addressed his Twitter followers saying: "That was your Bitcoin dip. Did you buy?"
That was your Bitcoin dip.

Did you buy? pic.twitter.com/kdyKcGTAX9

— Dan Held (@danheld) January 4, 2021
Meanwhile, the price of Ethereum (ETH) increased by 22% and reached $1,161 for the first time since January 2018. But its price quickly correct to below $900 afterward. The ETH correction was due to the large funding and compact sell orders at a key resistance level. 
Furthermore, Daniel Moss, an analyst at DailyFX commented: "The long-term outlook for both bitcoin and Ethereum remains skewed to the topside. However, both cryptocurrencies could be at risk of a near-term pullback as their respective surges appear relatively overextended."
Have a story you want USA Herald to cover? Submit a tip here and if we think it's newsworthy, we'll follow up on it.
Want to contribute a story? We also accept article submissions – check out our writer's guidelines here.