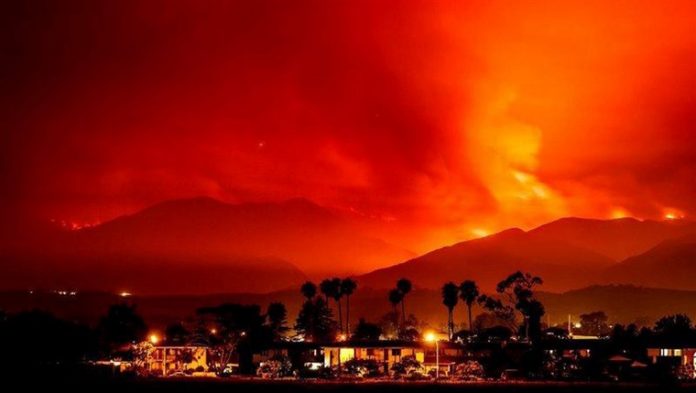 On Saturday, California Gov. Gavin Newsom announced the White House had granted his request for a Presidential Disaster Declaration. And thanked the President for his "partnership."
On Monday morning, Gov. Newsom held a press conference and talked about the devastating "historic" wildfires that are raging on all sides of the San Francisco Bay area.
Newsom says that this week will be critical as the more than 14,000 active firefighters battle to stop the out-of-control flames. 
Three massive blazes are currently impacting Northern California. And an estimate 625 wildfires are spreading throughout the state. Over 700 homes and buildings have been burned and an estimated 1.3 million acres have been scorched. Nearly a quarter-million people have been ordered to evacuate. 
Gov. Newsom said that at least seven people have died, including five from the LNU complex. "We're deploying every resource we have at our disposal," he added.
Many of these blazes were sparked by unprecedented lightning storms when 12,000 strikes pummeled the state for days.
Weather forecasts are signaling more lightning, record hot temperatures, and high winds. And officials are warning all residents to stay on high alert.
Wildfires cause deteriorating air quality
According to the Environmental Protection Agency's Air Quality Index, about one-third of the state had unhealthy air quality. This is a dangerous condition that is effecting population centers like Sacramento, Fresno, and San Francisco Bay.
Poor air quality, this wildfire season, is an environmental crisis, and it increases the risk of COVID-19 transmission.
The smoke from wildfires has created the worst air quality in the world for California. The problem is worse since many residents are already at a high risk of pulmonary diseases and asthma due to the coronavirus pandemic.
In the past few days, some Californians have noticed a thin layer of ash blanketing the air. These tiny particles present a serious health threat, according to the AirNow.gov website.
Most major urban areas in California have been affected by the deteriorating air quality over the past week, claimed the California Air Resources Board. The highest level of PM2.5 particles registered in Santa Cruz County and the Monterey Bay region.
The Air Resources Board advises people in the most affected areas to stay inside with windows and doors shut and run air conditioners in the "recirculate" setting.
————————————————–
Have a story you want USA Herald to cover? Submit a tip here and if we think it's newsworthy, we'll follow up on it.
Want guaranteed coverage? We also offer contract journalism here.  Just be sure you're comfortable giving up editorial control because our journalists are dogged and will follow the story through to the conclusion. The story will be published to our exacting standards, without regard for your preferred slant.
Want to contribute a story? We also accept article submissions — check out our writer's guidelines here.