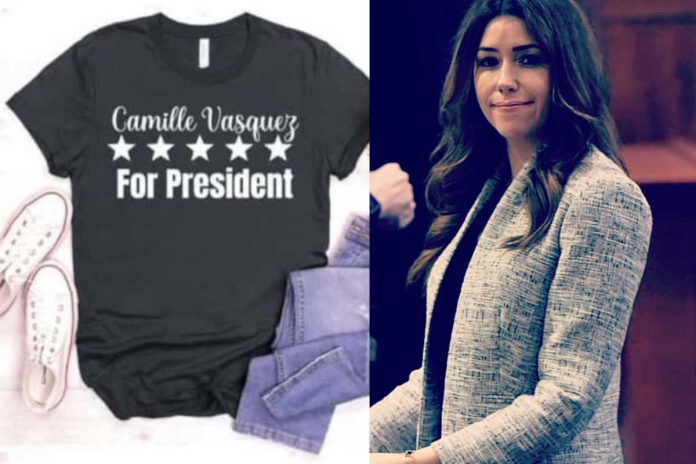 The celebrity lawyer, Camille Vasquez is being called "Wonder Woman" by an American Airlines crew.  It is being reported that she jumped into action to aid a passenger at 40,000 ft. mid-flight.
The lawyer who successfully represented Johnny Depp in his defamation suit against his ex, Amber Heard became an internet sensation. Vasquez, who has a Colombian father, and a Cuban mother is being celebrated as a role model in the Hispanic community.
The trial was televised and her cross-examination and closing arguments went viral. And Camille Vasquez's team got the "Pirate of the Caribbean" superstar a $10 million judgment.  
She is still representing Depp in other actions. And in more low-profile litigation she has also represented celebrity clients including Ben Affleck, Leonardo DiCaprio, and Jennifer Lopez.
Due to her efforts in the courtroom, Vasquez was promoted to partner at her firm Brown Rudnick. 
A spokesman for the airlines, Derek Walls, confirmed that "On June 20, American Airlines flight 184 with service from Los Angeles (LAX) to New York (JFK) returned to Los Angeles due to the medical needs of a customer."
Camille Vasquez to the rescue
 TMZ reported that on June 20th Vasquez was returning from Los Angeles to New York. An unidentified passenger fell in the aisle while walking past Vasquez and her bodyguard's first-class seats.
Vasquez and her bodyguard immediately responded.  Vasquez reached out to her sister and brother-in-law, who are doctors. And they helped her to determine whether the man had a heart attack or was suffering a brain bleed as a result of his fall. As part of the process, the bodyguard used his Apple Watch to check the distressed man's heart rate.
Flight attendants discovered a surgeon on board, as the flight returned to LA. And the doctor took over. 
The man in distress had returned to consciousness and was taken off the plane by waiting EMTs.
The crew gifted Vasquez bottles of merlot and champagne as thank you gifts. And they were calling her "Wonder Woman" to describe her efforts. 
She was already being lauded as a super lawyer now she's reached superhero status!