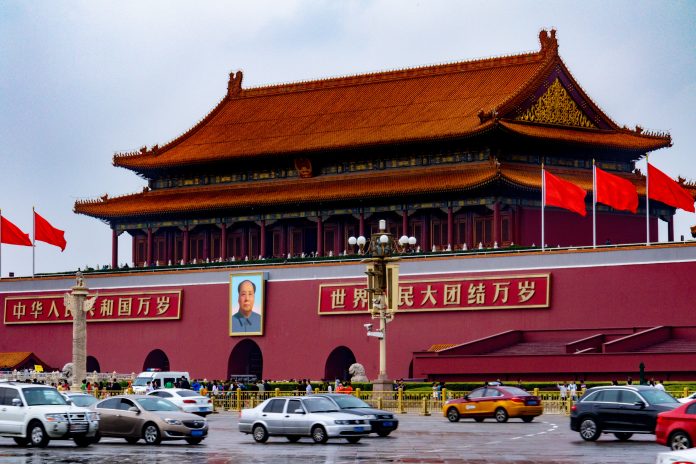 The U.S. has announced a fresh round of sanctions on Chinese firms and executives linked to the hotly contested South China Sea in an effort to curtail Beijing's expansion efforts, further escalating U.S.-Chinese tensions.
U.S. State and Commerce departments issued the actions on Wednesday, targeting a range of state-owned firms, such as the China Communications Construction Co. (CCCC). The CCCC is a widely used contractor within China, particularly for Xi Jinping's Belt and Road initiative, which aims to develop vast trade and infrastructure networks throughout Asia, Africa and other far away lands.
In total, 24 Chinese companies have been added to a Commerce Department list that prohibits U.S. companies from selling U.S. technology to said firms without a license. Although U.S. companies can apply for the license, the Trump administration has made it clear that the request will most likely be denied.
Furthermore, the State Department has denied visas for multiple unknown Chinese executives causally linked to Beijing's illegal territorial expansion in the South China Sea.
The Trump administration had already rejected Chinese claims in the South China Sea in July in a formal statement by Secretary of State Mike Pompeo, who said "The world will not allow Beijing to treat the South China Sea as its maritime empire."
Secretary Pompeo has heavily criticized Beijing's expansion efforts throughout Asia, claiming that China's policy of "might makes right" is essentially a billy club, used as a coercive tool to bend nations to the will of Beijing.
This criticism implicates Jinping's Belt and Road initiative, which has come under fire from U.S. officials for being nothing more than a coercive enterprise to gain sway over at-risk developing nations.
Chinese Communications Construction Co.
Out of the 24 sanctioned companies, five of them are subsidiaries of the CCCC. Assistant Secretary State of David Stilwell has called China's actions in Southeast Asia "modern-day equivalents of the East India Company."
The CCCC in particular has been targeted by U.S. officials, one senior official has described the company as "the Huawei of infrastructure," a direct reference to China's massive telecommunications company Huawei Technologies Co.
According to the same senior official, the CCCC has engaged in corruption, predatory financing and environmentally destructive projects throughout Malaysia, Kenya, Tanzania, Sri Lanka, the Philippines and other countries.
Responding to the allegations and recent sanctions, a Chinese embassy official in Washington said, "The U.S. sanctions on relevant Chinese companies and personnel are completely unreasonable. It is an act of hegemony in serious violation of international law and basic norms governing international relations."
Beijing's new policy
A prescient example of Beijing's new foreign policy is the attempted Chinese bailout of the Malaysian government fund 1MDB, following allegations by the U.S. and other countries that Malaysia's then-Prime Minister Najib Razak and his associates used the fund to enrich themselves.
China offered to bail out 1MDB and use its diplomatic connections to convince the U.S. and other nations to halt the investigations. To make matters worse, leaked meeting documents indicate that Beijing offered to bug the homes and offices of Hong Kong reporters investigating the fund to find the source of the leak.
Other aspects of the China-Malaysia agreement include building plans for the $16 billion East Coast Rail Link, a railway linking two Malaysian ports, and the $2.5 billion Trans Sabah Gas Pipeline, set to be partly built on the island of Borneo. Also, China requested permission to dock Chinese navy ships at two Malaysian ports.
Documents related to the Malaysian deal show Chinese officials obfuscating China's real intentions behind the deal, arguing that the public must be made to believe that "all initiatives are market driven for the mutual benefit of both countries."
Since the 2018 Malaysian election, the deal was halted and then revived for further negotiations.
China's actions in Malaysia are but a drop in the bucket in the nation's wider foreign policy goals. It appears that the Trump administration has aimed to push back against Beijing's initiatives, as is the case with this new round of sanctions.
————————————————–
Have a story you want USA Herald to cover? Submit a tip here and if we think it's newsworthy, we'll follow up on it.
Want guaranteed coverage? We also offer contract journalism here.  Just be sure you're comfortable giving up editorial control because our journalists are dogged and will follow the story through to the conclusion. The story will be published to our exacting standards, without regard for your preferred slant.
Want to contribute a story? We also accept article submissions — check out our writer's guidelines here.