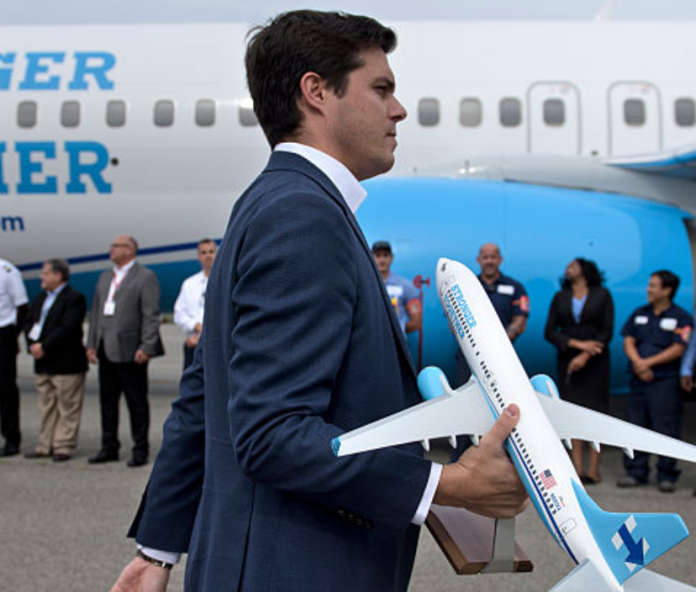 Earlier this week, Clinton spokesperson Nick Merrill accused former FBI Director James Comey of helping President Trump win the 2016 election, reports Fox News.
An Overview of Merrill's Remarks
Even though the 2016 Presidential election is over, controversies about what engendered President Trump's victory remain ongoing. Days ago, Merrill blasted Comey on Twitter, claiming that the latter caused Americans to feel "uneasy" by making a "public spectacle" of the infamous Clinton email probe.
Yet, when questioned about the past, Comey resorts to his folksy, matter-of-fact posture that allows any questions that might have provided some clarity to slide right off of him.

— Nick Merrill (@NickMerrill) April 16, 2018
Comey used the word "maybe" 37 times in the interview. 8 of them were in one answer. For a lawyer and law enforcement professional at the highest levels, it's a curious tactic, but useful when talking to press, allowing him to avoid having to be to definitive about anything.

— Nick Merrill (@NickMerrill) April 16, 2018
Merrill then continued, accusing Comey of "bias" and stating that he ought to have "stood up" to then-candidate Trump:
"Maybe" he should have just spoken to Lynch about his concerns of bias instead of holding a press conference.

— Nick Merrill (@NickMerrill) April 16, 2018
"Maybe" he should have stood up to Trump instead of offering him "honest loyalty."

— Nick Merrill (@NickMerrill) April 16, 2018
So along those same lines, I'd posit that "maybe" James Comey has nothing against Hillary Clinton.

— Nick Merrill (@NickMerrill) April 16, 2018
James Comey has taken heat from Americans on both sides of the aisle. There are Democrats who believe that Comey's email investigation aided President Trump's campaign. However, some Republicans believe that Comey mishandled the Clinton email probe, intentionally clearing her. As a matter of fact, President Trump fired Comey in 2017, stating that the latter handled the email investigation poorly.
Nevertheless, Merrill continued to criticize the manner in which Comey handled the Clinton email probe:
And "maybe" he didn't need to investigate the case for all those months leading Americans to believe Hillary Clinton had done something wrong when, as he says himself, he looked at 50 years of cases and from the start knew there was nothing to prosecute. pic.twitter.com/PZhahk5joo

— Nick Merrill (@NickMerrill) April 16, 2018
Comey said last night that there were hundreds of thousands of Hillary Clinton emails on the server. He said it in his Congressional testimony, it was wrong, and the record had to be corrected. Yet he asserted it again.
This is from ProPublica: pic.twitter.com/nklZJPEN5i

— Nick Merrill (@NickMerrill) April 16, 2018
At the end of the day, Hillary Clinton used her own email address. No laws were broken, no one was hurt, our national security wasn't threatened. It was a a dumb mistake and a far dumber scandal, as she herself has said many times.

— Nick Merrill (@NickMerrill) April 16, 2018
An Overview of Bipartisan Criticisms of James Comey
Merrill's foregoing statements and tweets come after the release of excerpts from Comey's book: 'A Higher Loyalty.' The former FBI Director has clearly expressed that he is no ally of President Trump. In various interviews, Comey has slammed the President as "morally unfit" for his current position. The FBI Director moreover accused the Commander-in-Chief of racism, misogyny, and dishonesty.
Like Merrill, conservatives are also criticizing Comey. However, their reasons vary from those of Clinton's spokesperson. As previously stated, many Americans believe that Comey essentially let Clinton off the hook regarding the email investigation. Like President Trump, conservatives have called for the incarceration of Hillary Clinton, after learning of her deletion of 33,000 emails.
The former FBI Director recently stated that he hopes Clinton will understand that he tried to "do the right thing" :
"It was just a series of no-win decisions. I even hope Hillary Clinton at least reads those parts of the book. I think she will walk away saying, 'you know what, I still think that guy's an idiot, but … he's kind of an honest idiot, and he's trying to do the right thing here.'"