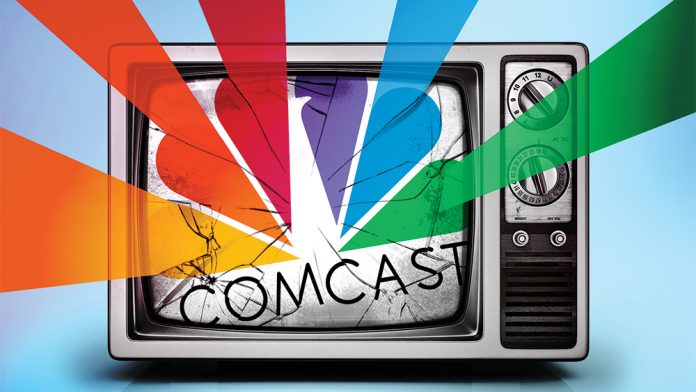 Cable television has been a staple of the American diet for decades. Yet, the way Americans are consuming television is rapidly changing to internet-based services and away from pre-packaged offerings. This shift in television culture, along with other business and operational problems, is causing Comcast to fall from grace as one of the country's best cable television providers.
Less than stellar customer service
Many people who have used Comcast in the past know about the lack of adequate customer service the company provides. In fact, customer ratings on Consumer Affairs give Comcast a 1.5 out of 5 in customer service satisfaction. Complaints are prevalent for Comcast, with the majority of users feeling as though they are not getting adequate service.  
The company has a history of inciting rage and anger from its customers. From delivering a bill which called a customer an expletive, to outright refusing to cancel service for their customers, Comcast has gotten a worse and worse reputation over time. It appears customers are finally fed up with Comcast and its terrible service, and searching for alternative television options.  In fact, disenchanted customers of Comcast have gone as far as to create a hashtag calling out Tom Karinshak, the VP of Customer Service at Comcast.  
New competitors help cut the cord
For decades, cable television was a straightforward business with little to no competition. Major players such as Comcast, Verizon, and AT&T held the majority of the market with very little room for new market entrants.
There is now a movement of cutting the cable cord from multi-channel packages in favor of internet-based content. This movement is especially prevalent in younger generations who are more apt to streaming content via the internet as opposed to cable television.
Leading the charge in fighting the traditional cable TV model are Netflix and Hulu. These companies began by purchasing the rights to previously-run cable television programming, creating an on-demand service where customers could watch their favorite shows at any time from any device.
This has caused Comcast to rapidly lose its customer base. Recently, the company reported its fourth-quarter earnings which resulted in a loss of 29,000 US cable customers. While the company is expected to launch its own streaming service this upcoming year, most customers have likely moved on from the company to its newer, more agile competitors.
Competitors create original content
Over time, internet-based television providers have picked up significant traction. This led to companies like Netflix, Hulu, and even Amazon, to create their own original content. The creation of this content is what is likely to spell doom for traditional cable companies.
It isn't just that Netflix and Hulu are creating their own programming for viewers, it's that these new programs have become critically-acclaimed and extremely popular among their viewing audience. Some examples of these critically-acclaimed shows include:
| | | |
| --- | --- | --- |
| Show | Network | Awards |
| The Marvelous Mrs. Maisel | Amazon | 13 awards, including Outstanding Lead Actress and Outstanding Directing for a comedy series in the 2018 Emmys. |
| The Handmaid's Tale | Hulu | Won Outstanding Drama Series and Outstanding Lead Actress in a Drama Series at the 2017 Emmys. |
| Orange Is the New Black | Netflix | 46 total awards including Outstanding Casting for a Comedy Series at the Primetime Creative Arts Emmy Awards. |
Trying to build bigger
One way Comcast is attempting to combat new market entrants is to grow even larger by way of acquisitions. The company bought European broadcasting company Sky for $39 billion, beating out rival competitor Fox.
However, this growth has raised red flags in the establishment. President Donald Trump has hinted at the fact that Comcast may be violating antitrust regulations in its merger with NBCUniversal. "American Cable Association has big problems with Comcast. They say that Comcast routinely violates Antitrust Laws," said the President in a tweet. Even though no action has been taken on this matter, it could spell even more problems for the company moving forward.
A Sinking Ship
The combination of terrible customer service and increased competition from internet-based programming leaves Comcast in a tough spot. While the company attempts to grow by way of  acquisitions, like that of its recent purchase of Sky, this won't be enough to thwart off new and innovative television offerings from a growing range of services.
As Comcast grows, it becomes slow to adapt to consumers with changing needs and demands from their television provider. The likes of Amazon, Hulu, and Netflix could take down the corporate giant's television business once and for all.