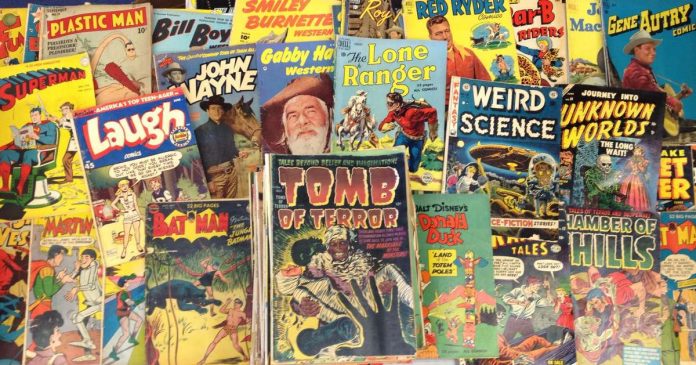 Comic Book Plus is one of the original sites where it's free to legally read and download Golden and Silver Age comic books. Recently there has been litigation between Disney and the heirs of comic book creators. And Cher also sued to keep her royalties from her work.
The disputes occur when copyrights or rights-to-use contracts expire. Or when works move into the Public Domain. Some comic books or other unique works were never copyrighted. Or the original copyright was not renewed.
Public domain and torrents
Comic book and pulp fiction companies were once part of a massive industry that at its height produced and distributed thousands of new issues, for sale, on a weekly basis. Some of the creator companies specialized in comic or magazine form. And there were also TV serials and film noir works produced. 
Sadly, many works were forgotten or simply discarded. But this means they can be viewed for free.  Many of these "pulp fiction" works are now in the Public Domain. In other words, there is no legal owner. 
A decade ago the wired internet gave access to a new world of public domain works. And all types of books and serials were being scanned in and placed on torrents. 
A torrent (or BitTorrent) is just a file copy protocol. It is an app that efficiently moves files around the Internet. It is perfectly legal to use as long as you aren't pirating copyrighted material.
You can get in a lot of legal trouble for downloading licensed content. It is totally legal to download and read anything that is in the public domain. But if it's copyrighted, stay away.
Public domain works from the 1930s to the late 1950s, are a treasure. Fans of nostalgia, classic film, and science fiction can find classics in that era.
Comic Books Plus has 40,792 comic books and other works that can be downloaded to read or live streamed from the site. The site's online viewer allows you to watch somewhat ancient series, true love, or detective fare.
The Digital Comic Museum also has a huge offering of free public domain comics and pulp fiction.
A growing collection of non-English comic books are becoming available. And nostalgia draws fans of pulp fiction, fanzines, true crime, and classic comics.
Sexism and Racism 
Although you can see public domain works free of charge, what was popular almost 100 years ago may be offensive now. Cultural works of the past reflect life at that time. Sexism, racism, and other cultural disconnects were not hidden from view.
These records can be used as a contribution to education and understanding. But they are historical documents reflecting the attitudes, perspectives, and beliefs of a different time. 
No one endorses any of the views expressed in the 1930s, 1940s, or 1950s.  And the public domain may contain content offensive to today's users. But many believe that history should not be hidden or rewritten. It is what it is.