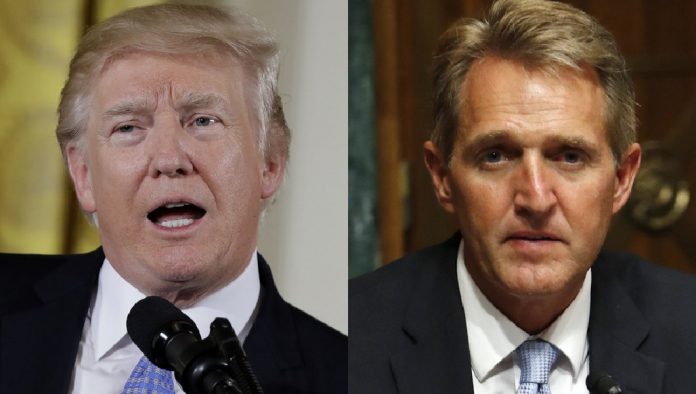 Numerous media outlets are reporting that outgoing Arizona Senator, Jeff Flake, plans to make a speech in which he compares President Donald Trump to former Soviet Union premier Joseph Stalin. The basis for this comparison will be President Donald Trump's alleged attacks on the press. Incidentally enough, by doing this, Senator Flake invokes another former Soviet politician, Leon Trotsky.
While on a segment for ABC News' "This Week," Flake went over one speech in particular with host George Stephanopolous where he compared the president's "treatment of the press" akin to the former ruthless Soviet dictator. Speaking out against President Trump is nothing new for Flake. He has never made a secret of his disdain for the President. However, comparing him to a murdering, ruthless, totalitarian dictator is extreme. And not only is it extreme, as well as an incorrect analogy, it mimics the moves of former Soviet politician and theorist Leon Trotsky. During the early days of the Soviet Union, Trotsky was a vocal critic of Stalin and organized numerous unsuccessful campaigns against the policies and rise of Stalin.
Much like Trotsky, Flake was once considered a wunderkind of sorts in the Republican Party. Flake was elected as Arizona's representative from the 1st Congressional district to the United States House of Representatives in 2000. He was reelected six times, serving from 2001 to 2013. In 2012, he decided to run for the U.S. Senate and won. He was sworn into office in January 2013 and serves on numerous Senate Committees.
Similarly, Trotsky was one of the original members of the Politburo and served as the first People's Commissar for Foreign Affairs as well as People's Commissar of Military and Naval Affairs. Both spoke out against their countries' leaders while in office. Trotsky was eventually relieved of his duties and exiled where he vigorously opposed the policies and rule of Stalin. Flake has already announced he planned to do the same regarding President Trump once out of the Senate (and during his last year too).
In one of his upcoming speeches, Flake will criticize Trump. An excerpt from one of Flake's speeches reads: "It's a testament to the condition of our democracy that our own president uses words infamously spoken by Joseph Stalin to describe his enemies. It bears noting that so fraught with malice was the phrase enemy of the people that even Nikita Khrushchev forbade its use. And of course, the president has it precisely backward. Despotism is the enemy of the people; the free press is the despot's enemy."
Now, while a similar speech by Trotsky would have resulted in Stalin sending him to the gulag or killing him (which he eventually ordered), President Trump will do no such thing. This is one of the reasons why this comparison is a farce. Additionally, it is a historically flawed comparison. Stalin was speaking out against the press because they told the truth. Stalin enforced penalties this which frequently led to death. Stalin frequently killed those who embarrassed him or criticized him. All of the Soviet Union's media went through Stalin. The state controlled the news in the Soviet Union and Stalin controlled the state – with an iron fist.
Trump speaks out against the press which promotes unsubstantiated and factually incorrect stories and agenda driven negative coverage. The stiffest penalty imposed by Trump is not being invited to dinner and a firmly worded tweet. It's intellectually dishonest and disingenuous to compare the two.
Furthermore, advocating for a free press is one thing. However, having said free press print politically motivated lies without any accountability is another. As a United States Senator, whether Republican or Democrat, liberal or conservative, Jeff Flake should advocate a free press that reports the truth to its citizens and not politically motivated propaganda that would be comparable to the content in Pravda. Condemning President Trump's efforts to hold the United States press accountable for their content is a Trotskyite maneuver if there ever was one.
And ultimately while Stalin arranged for Trotsky to be murdered by an assassin with an ice pick in Mexico, Flake's fate will most likely lead him to a lucrativAe television deal with one of the cable networks – a far cry from totalitarian assassination.