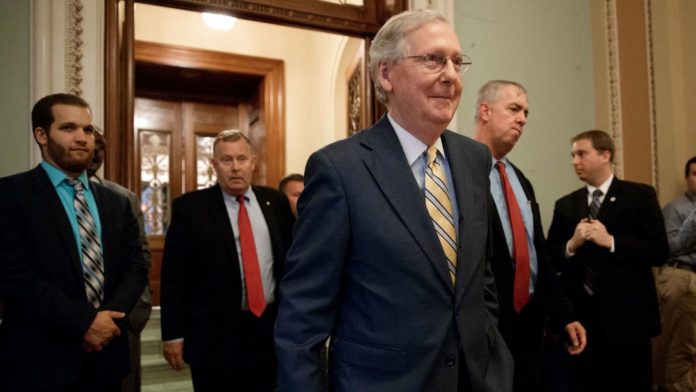 A group of influential conservative leaders are demanding the resignation of Senate Majority Leader Mitch McConnell and his leadership team.
On Wednesday, the conservative leaders said the Senate needs a new leadership. They called McConnell a "failure."
According to them, Millions of Americans, who expected real change in Washington are disappointed this year. Republicans have full control of the federal government, but they failed to deliver any of their promises.
"They — you — have done nothing," according to the conservative leaders in their letter to McConnell.
Conservative leaders said McConnell is the "swamp"
They believe that McConnell has no intention of honoring his promises to the American people. "You were not going to drain the swamp. You are the swamp," they said to the Senate Majority Leader.
In their letter, the conservative leaders said McConnell and his leadership team broke the following promises:
stopping the steady flow of illegal immigration
reducing the size of the federal government
eliminating out-of-control deficit spending
repealing Obamacare
tax reform
They told McConnell, "You're current failure to deliver on the highest commitments to the American people is nothing short of shocking."
McConnell's greatest betrayal— failure to repeal Obamacare
Additionally, they said McConnell's greatest betrayal is probably his failure to repeal Obamacare.
Last month, the senator did not bring the Graham-Cassidy for a vote on the Senate floor.  Republican leaders did not have enough votes to pass the legislation. Senators John McCain, Rand Paul, and Susan Collins opposed the bill. Their opposition effectively killed the measure.
The conservative leaders told McConell, "Don't blame others for falling one vote short – the fault is yours and the rest of your Gang of 5 leadership team."
Furthermore, they pointed out that McConnell has been attacking grassroots Republicans particularly conservatives. In 2016, they noted that he refused to support the candidacy of Darryl Glenn in Colorado "simply because he is conservative."
They said, "It is time for you and your leadership team to step aside for new leadership… America is too good for you to lead it."
The letter was signed by Ken Cuccinelli, president of Senate Conservatives Fund, Jenny Beth Martin, co-founder of Tea Party Patriots, and Adam Brandon, president of FreedomWorks.
Brent Bozell, chairman of For America, David Bozell, president of For America, and Richard Viguerie, a political direct mail pioneer, also signed the letter.