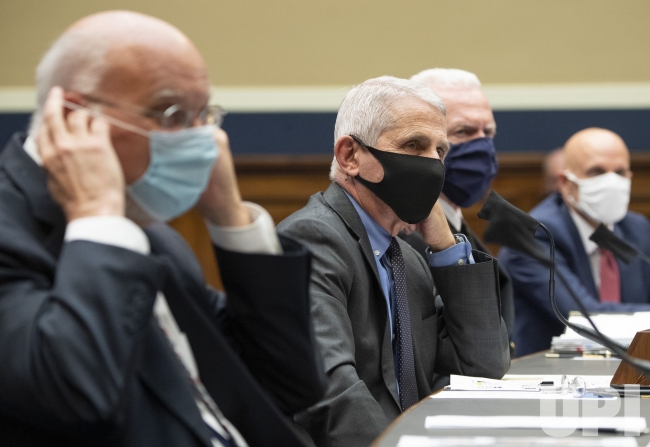 At a hearing Tuesday on the Trump Administration's response to the COVID-19 pandemic, Dr. Anthony Fauci addressed questions regarding the administration's "sluggish initial response." 
Congress heard from leaders of government and non-government organizations vital to the response, including Anthony Fauci, M.D.; Admiral Brett Giroir, M.D, Assistant Secretary for Health at the Department of Health and Human Services; Stephen M. Hahn, M.D. Commissioner for the FDA; and Robert Redfield, M.D. Director of the CDC.
Containment and contact tracing
During the hearings, Congressman Pallone expressed general concerns over the Trump administration's handling of the COVID-19 pandemic, including a "sluggish initial response," lack of resources for testing, and a lack of PPE (Personal Protective Equipment) for frontline workers. 
He urged the committee and the witnesses to consider the Senate's inability to pass the Heroes Act, which would provide the Department of Health and Human Services with $75 billion to develop a national testing and contact tracing plan. 
Contact tracing is the identification, monitoring, and support of the individuals (contacts) who have been exposed to a coronavirus patient and possibly infected themselves. Testing and contact tracing are vital containment strategies, and after direct questioning, all four witnesses said directly that they have not been asked to slow down testing. 
Admiral Giroir emphasized, "the only way that we will be able to understand who has the disease, who is infected and can pass it, and [how] to do appropriate contact tracing is to test appropriately, smartly and as many people as we can." 
Viability of new coronavirus treatment
Questions came up regarding a viable treatment for the virus. Dr. Fauci highlighted the positive strides the public health community has already made. These strides include hopeful results of a new drug, Remedesivr, which will be entering stage 2 trials in July. 
When asked about the possibility of using convalescent plasma as a treatment for COVID-19, Commissioner Hahn stated that the trials are ongoing but we "should know the results soon."
Ranking Member Greg Walden asked what Congress could do, from the witnesses' perspective, to get ready for the Fall and offer support for the administration in their ongoing efforts to contain the virus. 
Dr. Redfield reiterated the importance of making Congress's investment a sustainable one. Dr. Fauci also emphasized the necessity to establish "corporate memory" and develop a system of preparedness for future outbreaks. 
Admiral Giroir highlighted the limitations that are related to a lack of a national data infrastructure, specifically for public health resources. He urged Congress to utilize resources to promote vaccine confidence. 
Second wave predictions
When asked about his predictions for the mortality rates of a second wave, Dr. Fauci responded, "What we'd like to do is get this outbreak under control over the next couple of months, so that we have such a low baseline that when you do have the inevitable situation of cases appearing as you try to gradually reopen the country … that if you get a level that is very low you can contain — and contain means identify isolate and contact trace — rather than have such a high level that when you get increases, you have to mitigate right from the beginning." 
Later, Fauci again reiterated the idea of "dual responsibility". He urged all Americans, especially young Americans to think about how their participation in social distancing can help their fellow Americans.