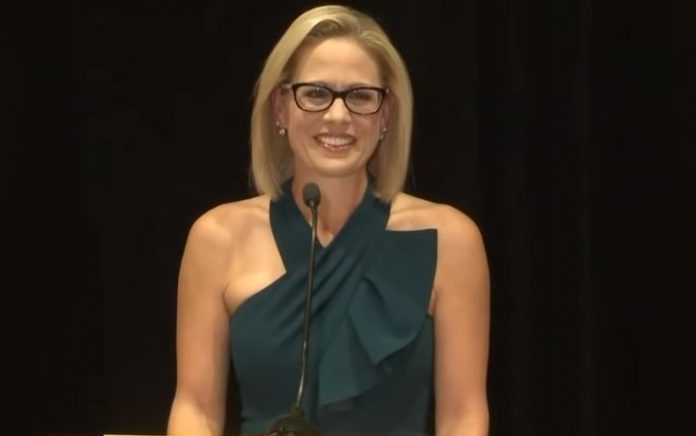 Democratic Rep. Kyrsten Sinema won in the Arizona race for the U.S. Senate to replace retiring Senator Jeff Flake. She defeated Republican Rep. Martha McSally who fought a very competitive election, among the closely watched in the country.
Sinema gained 1,097,321 votes or 49.68 percent while McSally had 1,059,124 votes or 47.96 percent. She was ahead by 38,197 votes or 1.72 percent, based on data from the Arizona Secretary of State website.
On Monday night, McSally posted a video on Twitter stating that she called Sinema and congratulated her for becoming Arizona's first female lawmaker elected to the U.S. Senate after a "hard-fought battle."
McSally also expressed gratitude to her campaign staff and the Arizonans who voted for her. "We sure wish it came out with a different result, but I'm so thankful for you," she said.
Congrats to @kyrstensinema. I wish her success. I'm grateful to all those who supported me in this journey. I'm inspired by Arizonans' spirit and our state's best days are ahead of us. pic.twitter.com/tw0uKgi3oO

— McSally For Senate (@MarthaMcSally) November 13, 2018
Sinema says Arizonans rejected fear and party politics
On the other hand, during her victory speech, Sinema expressed her gratitude to Arizona veterans including her brothers and McSally for their bravery, sacrifice, and service for the country.
According to her, "We launched this campaign because Arizona veterans and all everyday Arizonans deserve a leader who will fight for them in the United States Senate…I'm so honored that Arizonan's chose our vision of a better Arizona…"
Additionally, Sinema emphasized, "Arizonans had a choice between two very different ways forward: One focused on fear and party politics, and one focused on Arizona and the issues that matter to everyday families. Arizona rejected what has become far too common in our country: name-calling, petty personal attacks, and doing and saying whatever it takes just to get elected. It's dangerous and it lessens who we are as a country. But, Arizona proved that there is a better way forward."
Sinema promises to double-down her approach of seeking common-ground
Furthermore, she pointed out, "We can embrace difference while seeking common ground." She promised that she will "double-down" this approach in the U.S. Senate to get things done.
Sinema built her reputation as centrist who is willing to work with Republicans to pass legislative solutions. She supported some of President Donald Trump's agenda such as the Kate's Law, which expands the maximum sentences for deported foreign felons who tries to re-enter the country legally or illegally. She voted for the SAFE Act, which expanded the screening process for every refugee seeking asylum to the country.