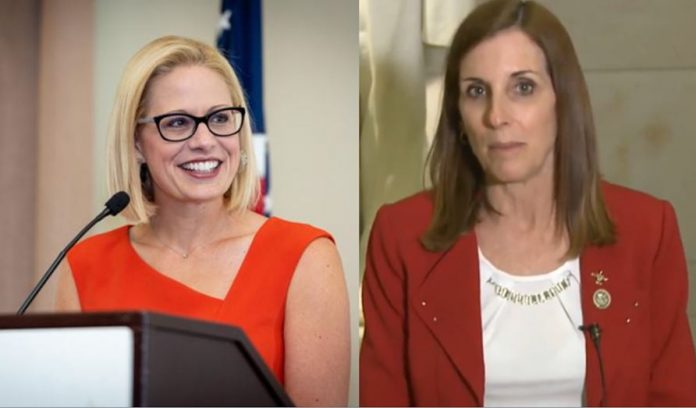 Republican Martha McSally and Democrat Kyrsten Sinema are neck-and-neck in the race for the U.S. Senate in Arizona.
For weeks, the race between McSally and Sinema has been contentious and too close to call. Political observers consider it as one of most unpredictable elections in the history of Arizona.
One thing is for sure, the winner will become the first woman senator who will represent Arizona in the U.S. Senate. McSally and Sinema are seeking to replace retiring Republican Senator Jeff Flake.
Paul Bentz, a consultant for the Republican Party, told AZ Central, "This has been a very contentious race, a very negative election for both, a lot of negative advertising against both candidates…At the end of the day; each voter has to make up their mind and struggle with the result."
According to the latest poll released by ABC15/OH Predictive Insights, McSally is leading Sinema by one point.
On the other hand, the Emerson College poll showed that Sinema has a one point advantage against McSally.
Arizona seeing significant midterm election turnout
Mike Noble, the Chief Pollster and Managing Partner at OH Predictive Insights, commented, "Arizona is seeing a historic midterm election turnout and Democratic voters are defying past historic early voting trends."
In addition, Noble said, "The race has tightened and it's fitting that the winner will be decided based on who can best turn out their voters on Election Day."
Data from the Arizona Secretary of State's Office showed that there are 3,716,161 registered voters. The number of Republican registered voters is 1,288,332 and 1,151,745 for Democrats. The remaining registered voters are Independents, Libertarian, and Green Party members.
As of Monday, the 1,586,783 voters already turned in ballots, higher than the 1,537,671 people who voted during 2014 midterm elections.
Take note that the Republican Party in Arizona has an edge over the Democratic Party in voter registration this election. Therefore, the turnout is very important for McSally and Sinema. In addition, it is imperative for both candidates to gain the votes of those outside their party particularly Independent voters to win the election.
Last week, the Green Party candidate, Angela Green dropped out of the race and endorsed Sinema.