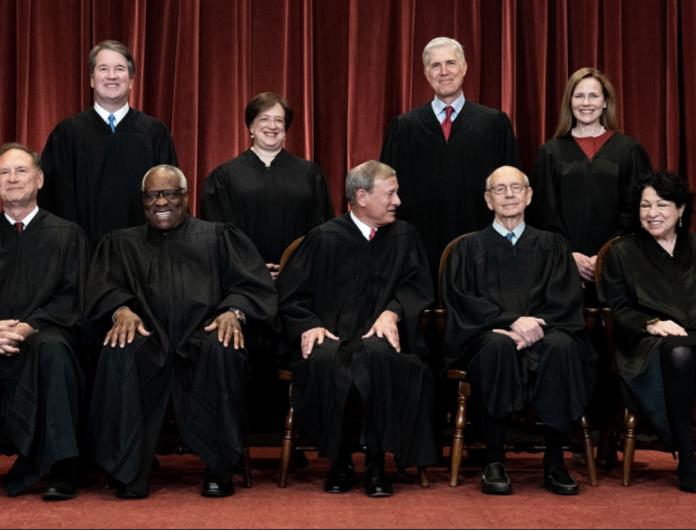 A little over one month ago, the Supreme Court torpedoed Roe v. Wade. In doing so, the issue of abortion went back to the state level, paving the way for both total abortion bans and abortion on demand.
Pro-choice activists remain furious over the fall of Roe v. Wade. Democrats have called for everything from impeaching right-wing Supreme Court justices to expanding the Supreme Court. Some Democrats even demanded having abortion procedures on federal lands.
Democrats are just getting started, though. This week, left-wing lawmakers brought forward legislation that would put in place term limits for justices on the Supreme Court.
What to know about this new piece of legislation
The legislation submitted by House Democrats stands as the Supreme Court Tenure Establishment and Retirement Modernization Act.
Put simply, this bill aims to let any US president submit new Supreme Court nominees within the first and third years that follow White House elections.
Furthermore, the Supreme Court Tenure Establishment and Retirement Modernization Act would allow justices to only serve for 18 years on the bench, rather than enjoying lifelong appointments.
Also, Supreme Court justices who've served on the court for the longest periods of time would be first in line for senior status. Put simply, senior status justices, under this bill, would hold onto their offices and salaries that come with the job.
They'd do this while being next in line for associate justice status.
Democrats on the need for this bill
Left-wing lawmakers continue to warn the Supreme Court's legitimacy is looking shakier as time passes. Democrats likewise maintain that five of the six conservative justices arrived on the court via appointments from presidents who didn't win the popular vote.
Additionally, leftist legislators warn the Supreme Court continues issuing rulings that are out of touch. This follows Democrats' view that the conservative majority should ultimately get diluted.
This is why many Democrats, and progressives especially, have expressed support for expanding the Supreme Court.
The Supreme Court Tenure Establishment and Retirement Modernization Act, due to its inherently partisan nature, may pass the Democrat-controlled House of Representatives. However, it's likely dead on arrival by the time it reaches the 50-50 split Senate.