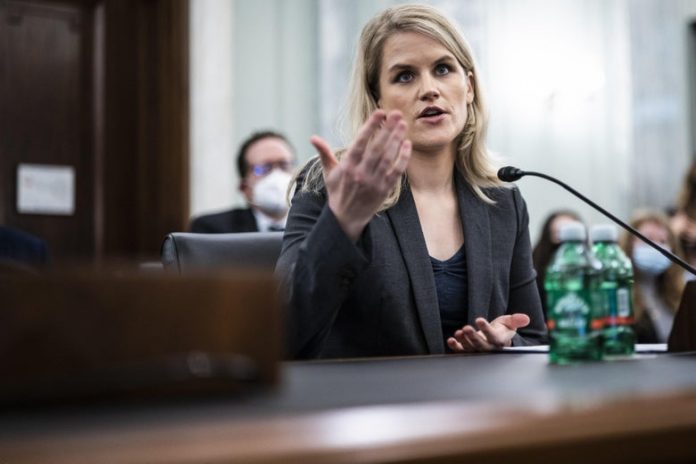 Frances Haugen has become a very effective Facebook whistleblower. On Tuesday, she testified that she believes the social media giant is a "national security issue." And in her testimony before the Senate Commerce Committee, she is demanding action against the social media platform.
And also referred to the fact that Facebook was down for 5 hours on Monday.
Haugen reportedly filed at least eight complaints with the Securities and Exchange Commission last month. She alleges that the $1 trillion company is hiding evidence from investors and the public. 
"Almost no one outside of Facebook knows what happens inside of Facebook. The company intentionally hides vital information from the public, from the U.S. government, and from governments around the world," she said.
Facebook whistleblower reveals all
Haugen 37 has an MBA. And starting in 2006 she worked at Google, Pinterest and Yelp. She specializes in "algorithmic product management." And hired on to Facebook in 2019.
As a civic product manager on Facebook's misinformation team, she claims that the mega-media network saw "active participation" of "the Iran government doing espionage on other state actors."
She shared internal documents and Facebook research with regulators and the Wall Street Journal. It is alleged that she leaked thousands of Facebook documents prior to leaving the company. 
She believes that Facebook was aware of problems with its apps. She points to the negative effects of misinformation. And the damage caused to young girls by Instagram.
Haugen said, "Facebook is very aware that this is happening on the platform."
Haugen's warning about national security was only one of the major areas the ex-Facebook employee testified about.
Haugen asserted that Facebook has not only known its platform causes harm to U.S. security interests and to the well-being of minors using the platform but that the site allegedly relies on negative interactions to drive engagement. 
"The choices being made inside of Facebook are disastrous for our children, for our public safety, for our privacy, and for our democracy," Haugen emphasized in her opening statement. 
"I saw Facebook repeatedly encounter conflicts between its own profits and our safety. Facebook consistently resolved these conflicts in favor of its own profits," she added.
The legislators are calling on Facebook CEO Mark Zuckerberg to testify on the allegations levied at his $1 trillion company. And hopefully, respond to the Facebook whistleblower on the record.