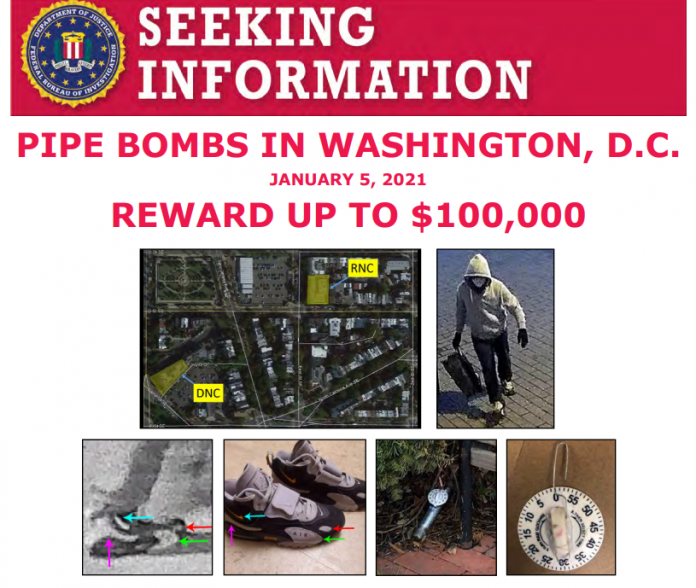 The Federal Bureau of Investigation (FBI) revealed new information regarding the improvised explosive devices (IEDs) or pipe bombs found at both the Republican National Committee 9RNC) and Democratic National Committee (DNC) headquarters while chaos ensued at the U.S. Capitol on January 6.
On Friday, the FBI said the pipe bombs were placed outside the RNC and DNC headquarters on the night of January 5, before the U.S. Capitol insurrection. The bureau stated that the suspects may have planted the explosives outside the buildings at around 7:30 to 8:30 pm.
Before 1:00 p.m. on January 6, U.S. Capitol Police and agents at the FBI and the Bureau of Alcohol, Tobacco, Firearms, and Explosives (ATF) responded to the call of the RNC office regarding an explosive device. After 30 minutes, the law enforcement agencies responded to the DNC regarding a similar device.
Both IEDs were roughly a foot long, with end caps and wires attached to a timer, similar profiles, and seem to be made by the same individual(s), two law enforcement officials familiar with the matter reported. Investigators continue to work on identifying the compounds within the pipe bombs, but there appeared to be an unknown powder and metal mixture, according to officials.