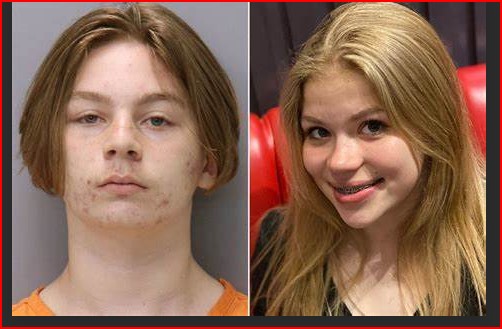 A Florida teen changed his plea and pleads guilty for the stabbing death of Tristyn Bailey,13, according to local news outlet CBS 47.
Aiden Fucci, 16 stabbed the girl 114 times. And the autopsy confirmed 49 of the stab wounds were defensive injuries on her hands, arms, and face. He then dumped her body in a wooded area.
On Monday, Fucci's attorney filed a change of plea and now pleads guilty as charged. The plea came just ahead of jury selection for his first-degree murder trial.  The 2021 murder shocked the Durbin Crossing neighborhood. 
"I just want to apologize to the Bailey family," Fucci said when the court asked if he would like to make a statement. According to News 4, Jax Circuit Judge R. Lee Smith asked Fucci if he needed more time to consider the guilty plea, but Fucci declined the offer.
Fucci is being prosecuted as an adult. And has been charged with first-degree murder. He was arrested on Mother's Day in 2021, the day after Bailey's mutilated body was found beside a retention pond nearby to her home.
Florida teen pleads guilty to the brutal murder
The St. John County's State Attorney R.J. Larizza told reporters after his arrest that Bailey died "fighting for her life." And prosecutors allege that Fucci on the night Bailey died told friends he "intended to kill someone by taking them in the woods and stabbing them."