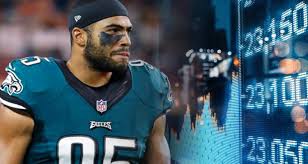 Strongside Linebacker Unable to Block Federal Indictment for Insider Trading
Damilare Sonoiki, 27, of Beverly Hills, California, and Marvin Mychal Kendricks, 27, of Fresno, California have been indicted in federal court for insider trading.
Per the court, from July 2014 to approximately March 2015, Sonoiki and Kendricks conspired to commit securities fraud. At the time, Sonoiki was a junior analyst at a major global investment bank in New York. He provided material non-public information to Kendricks, then a linebacker for the Philadelphia Eagles. This information revolved around upcoming mergers involving four unnamed investment bank clients of Sonoiki's employer.
Sonoiki unhesitatingly obtained, utilized and disseminated the sensitive information. In doing so, Sonoiki was in violation of his fiduciary responsibility to his investment bank employer.
NFL Player Didn't See This Coming
Kendricks acted on the information by purchasing call options for the M&A target companies: Compuware, Move, Sapient and Oplink.
Of course, when the proposed mergers for each of these companies were announced to the public, the value of Kendricks's options increased considerably.
In the case of Compuware, Kendricks purchased approximately $60,000 in call option contracts, post public merger announcement. Immediately thereafter, Kendricks sold the same call option contracts for approximately $138,000, making a $78,000 profit.
With respect to Move, Kendricks purchased approximately $71,000, and post public merger announcement sold his position for roughly $350,000.
Additionally, regarding Sapient, Kendricks purchased roughly $146,000 in call option contracts and post public merger announcement, sold them for approximately $635,000.
Finally, Kendricks purchased the call option contracts for approximately $446,000 for Oplink and sold them post public merger announcement for about $798,000.
All in all, Kendricks allegedly made a combined gross profit of nearly $1.2 million. The court further alleges that the only things defendant Kendricks gave Sonoiki in exchange for the insider information was tickets to Eagles games and approximately $10,000 in cash.
A Level Playing Field
"At the heart of insider trading cases is the concept of a level playing field," said Christian Zajac, assistant special agent in charge of the FBI's Philadelphia division.
If convicted, each defendant faces a maximum possible sentence of 25 years' imprisonment, a three-year period of supervised release, a $5.25 million fine and a $200 special assessment. They may also have to forfeit all of the proceeds from their offenses.
"When individuals engage in insider trading — buying and selling securities based on material, non-public information — it undermines faith in our financial markets and harms ordinary investors who do play by the rules," said U.S. Attorney William McSwain. "As alleged, Mr. Sonoiki and Mr. Kendricks cheated the market, cheated other investors and placed themselves above the law."