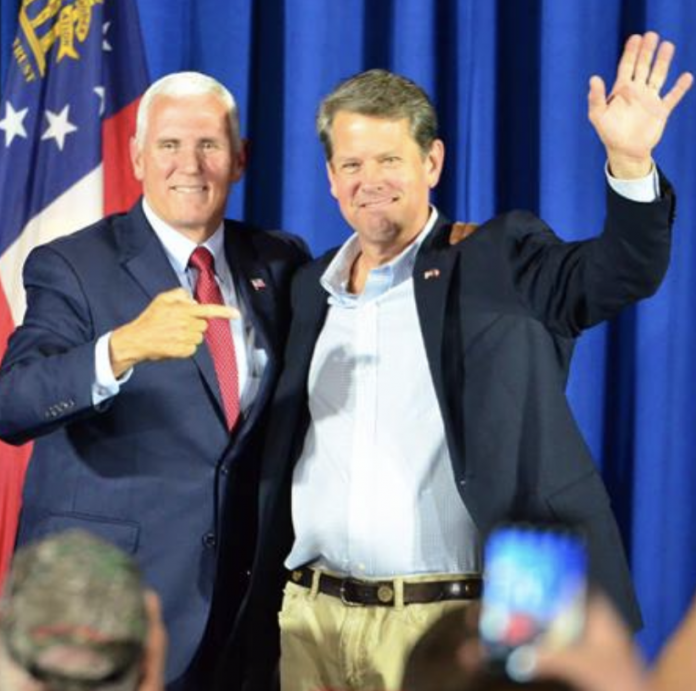 On Tuesday, May 24, the state of Georgia will hold its primary election to determine which candidates for governor face off against each other in the general election.
On the Republican side, incumbent GOP Gov. Brian Kemp appears set to win, likely avoiding a runoff as well.
Polling from earlier this month shows Kemp carrying almost 60% support amongst Georgia Republican voters. Meanwhile, Trump-backed GOP challenger David Perdue comes in next with about 22%.
On the side of the Democrats, Stacey Abrams is running without competition. She will therefore secure the nomination of the Georgia Democratic Party on May 24.
All signs appear to indicate a Kemp vs. Abrams rematch heading into the Georgia general election. As an added boost to the Georgia governor, former Vice President Mike Pence is heading down to the Peach State to campaign for Kemp also.
What to know about Pence's upcoming visit
In a statement, the former vice president clearly affirmed his support for Kemp as the latter seeks a second term as Georgia's governor.
Pence heralded Kemp as one of America's most conservative and successful governors. Likewise, the former vice president praised Kemp's commitment to Georgians, family, and faith.
May 23, the day before the Georgia primary election, is when Pence will visit the state. The former vice president's time will be spent at a rally designed to get out the vote ahead of the general election.
.@BrianKempGA is one of the most successful conservative governors in America. He built a safer and stronger Georgia by cutting taxes, empowering parents and investing in teachers, funding law enforcement, and standing strong for the right to life.

— Mike Pence (@Mike_Pence) May 13, 2022
Finally, Pence gave a full-fledged endorsement of Kemp by lauding his record. He stated that while in office, the Georgia governor managed to defend life, support law enforcement, reduce taxes, and more.
Pence is not the only big-name supporting Kemp. The Georgia governor holds endorsements from the National Rifle Association, Nebraska Governor Pete Ricketts, and Arizona Governor Doug Ducey.
On top of this, the Republican Governor's Association has put out pro-Kemp ads.
Red wave incoming?
General election polls of a rematch between Kemp vs. Abrams reveal the former securing yet another victory.
In Georgia, we chose freedom over lockdowns as the FIRST state to reopen. As Governor, I'll ALWAYS fight to put hardworking Georgians first. pic.twitter.com/7nMMDVwYRL

— Brian Kemp (@BrianKempGA) May 13, 2022
A Kemp win in November would save Georgia from slipping into blue-state territory. In light of the state's 2020 election results and 2021 runoffs going in favor of Democrats, many Americans are keeping a close eye on Georgia.