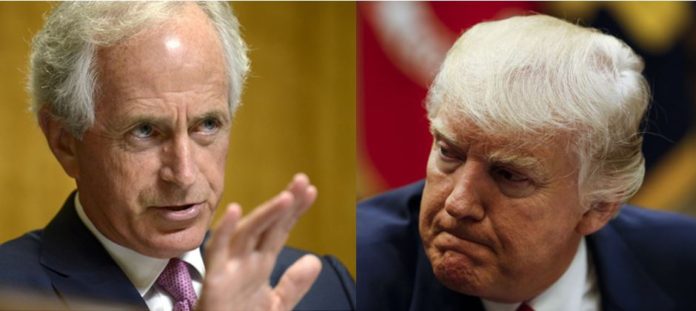 Republican Senator Bob Corker fired back at President Donald Trump on Sunday. The senator from Tennessee said the White House turned into "an adult day care center" under the Trump administration.
In a message posted on Twitter, Sen. Corker wrote, "It's a shame the White House has become an adult day care center. Someone obviously missed their shift this morning."
 Pres. Trump said he refused to endorse Sen. Corker
Sen. Corker voiced out his criticism after Pres. Trump attacked him in a series of tweets on Sunday morning. The President said the Tennessee begged for his endorsement in the 2018 mid-term election, but he refused.
Pres. Trump tweeted, "Senator Bob Corker 'begged' me to endorse him for re-election in Tennessee. I said 'NO' and he dropped out (said he could not win without my endorsement)."
Trump added, "He also wanted to be Secretary of State, I said 'NO THANKS.' He is also largely responsible for the horrendous Iran Deal!"
Furthermore, the President said, Sen. Corker "didn't have the guts to run!" He expected the Tennessee senator to be a "negative voice" and to "stand in the way of our great agenda."
In September, Sen. Corker announced his decision that he will not seek re-election after his term expires at the end of 2018. The senator said he wants to serve the country "thoughtfully and independently" in the remaining months of his Senate career.
Sen. Corker's chief of staff disputed Trump's tweets
In a statement on Sunday, Sen. Corker's chief of staff, Todd Womack disputed Pres. Trump's tweets.
According to Womack, the President asked the Tennessee senator to reconsider his decision not to seek re-election during a phone call on Monday. He added that Pres. Trump reaffirmed his previous statements to Sen. Corker that he would endorse him.
On Sunday afternoon, Pres. Trump responded to Sen. Corker's "adult day care center" tweet. He indicated that the senator is ineffective and could not help his administration achieve its policy agenda.
The President tweeted, "Bob Corker gave us the Iran Deal, & that's about it. We need HealthCare, we need Tax Cuts/Reform; we need people that can get the job done!"
Sen. Corker plays a critical role 
Political observers suggested that alienating Sen. Corker is not good for the administration. The President is adding another obstacle to his legislative agenda.
Sen. Corker is the chairman of the Foreign Relations Committee and he is also a member of the Senate Budget Committee. Therefore, he plays a key role in the Congress determining the future of the Iran nuclear agreement and the impending debate regarding the administration's tax reform proposal.
Last week, the Tennessee senator stated that he will not support the Republican's new tax plan if it will add a penny to the budget deficit.
In the past, Pres. Trump attacked other Republican lawmakers including Senate Majority Leader Mitch McConnell and Sen. Lindsey Graham. He also criticized Senators John and Jeff Flake.