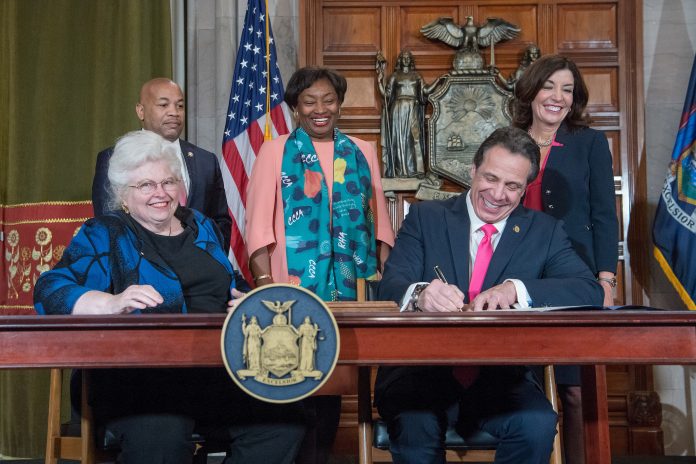 New York Governor Andrew Cuomo signed into law the Reproductive Health Act, which codifies the Supreme Court's decision on Roe v. Wade into New York State law.
Earlier this month, Cuomo together with the leaders of the New York Legislature promised that they will approve the bill within the first 30 days of the legislative session.
Democratic State Senator Liz Kruger introduced the Reproductive Health Act to protect women's rights to make medical decisions about their body. The legislation amends provisions of the state's public health law that restricts women's rights to abortion. In other words, the legislation decriminalizes women's access to abortion and recognizes that it is a health care.
On Wednesday, the governor said they fulfilled their promise to protect women's reproductive rights. According to him, "In the face of a federal government intent on rolling back Roe v. Wade and women's reproductive rights, I promised that we would pass this critical legislation within the first 30 days of the new session – and we got it done."
New York sends a clear message regarding women's reproductive rights
Additionally, the governor stated, "Today we are taking a giant step forward in the hard-fought battle to ensure a woman's right to make her own decisions about her own personal health, including the ability to access an abortion. With the signing of this bill, we are sending a clear message that whatever happens in Washington, women in New York will always have the fundamental right to control their own body."
Senate Majority Leader Andrea Stewart-Cousins commented that New York is removing the barriers to women's rights.
On the other hand, Assembly Speaker Carl Heastie said they passed bills to" ensure New Yorkers can control their family planning decisions, have access to the reproductive healthcare they need and will not be discriminated for their choices."
Meanwhile, Sen. Kruger said, "The decision about whether to have an abortion is deeply personal. It involves a complex weighing of a woman's unique circumstances, her medical needs, her private morality, and her own body. That is why it is a decision that must be made by a woman and her healthcare provider alone – not by the government."