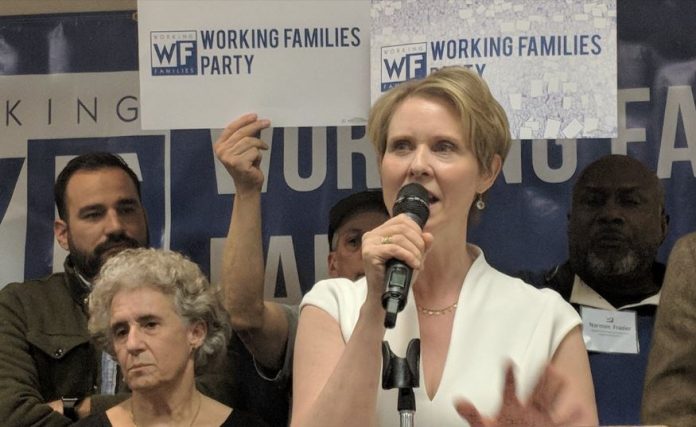 Governor Andrew Cuomo suffered a major blow after an influential progressive political group in New York endorsed Cynthia Nixon.
On Saturday, 91.5% of the members of the New York Working Families Party (WFP) supported Nixon, an actress and education activist. She is challenging Cuomo in New York's Democratic gubernatorial primary.  The second-term governor is running for re-election.
WFP is an influence progressive group composed of labor unions and activists within the Democratic Party. Its endorsement is considered by Democrats as one of the most important in the state of New York.
In a speech, Nixon told New York WFP members, "I am indebted to you today and every day because you are the heart and the soul of the progressive New York that wan to create…"
Nixon blasts Cuomo's leadership 
She slammed Cuomo for allowing the increasing inequality in the state and underfunding public schools. She described the past eight years under Cuomo as "living with disappointments, dysfunction and dishonesty."
Nixon said, "I am running for governor because we need a governor to stand with the people of New York."  The actress and education activist emphasized the she will fight with New Yorkers to "fully fund our schools, get the big money out of politics, and single-payer healthcare."
Additionally, Nixon said her campaign is "not accepting a single dime from corporate money" because it "can't be bought. It is about New Yorkers coming together to end racial and economic inequality."
Two labor unions left WFP 
On Friday, Cuomo's campaign announced that it will not be seeking the endorsement of WFP. The governor also encouraged labor unions to leave the group.
The Service Employees International Union Local 32BJ and Communications Workers of America (CWA) District 1 left WFP.
In a joint statement, Héctor Figueroa, president of Local 32BJ and Dennis Trainor, vice president of CWA District 1, confirmed their withdrawal from WFP. According to them, "endorsing Governor Cuomo is the most effective way to put the interest of working families first."
In a post on Facebook, the New York WFP commented that Gov. Cuomo chose to retaliate with bullying and threats instead of making an argument as to why he deserve its endorsement.