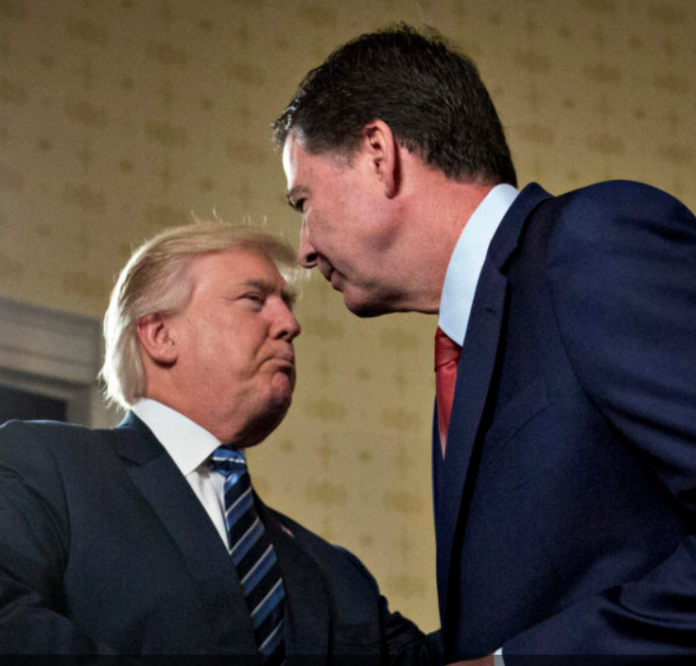 During yesterday's ABC News interview, former FBI Director James Comey provided additional intel on his upcoming book, 'A Higher Loyalty' and his thoughts on President Trump, reports The Hill.
An Overview of the Comey Interview
Last night, former FBI Director James Comey gave a detailed and highly anticipated interview. As previously stated, the subject matter of said interview revolved around his forthcoming book about his service as director of the FBI. Americans learned of Comey's book deal in August 2017. Since then, many political pundits and citizens have speculated about the content of 'A Higher Loyalty.'
During the latter leg of last week, Americans obtained key excerpts within 'A Higher Loyalty.' Throughout the aforementioned passages, Comey slammed the President's character, integrity, and fitness to serve in the Oval Office. However, during last night's interview, the former FBI Director doubled down on his harsh assertions regarding President Trump.
Not only did Comey blast the Commander-in-Chief as "morally unfit," but he furthermore slammed the President's treatment of women:
"A person who sees moral equivalence in Charlottesville, who talks about and treats women like they're pieces of meat, who lies constantly about matters big and small and insists the American people believe it, that person's not fit to be President of the United States, on moral grounds."
However, to the surprise of many onlookers, Comey affirmed that he does not wish to see the President impeached. His provided reason reads as follows:
"Impeaching and removing Donald Trump from office would let the American people off the hook."
The former FBI Director added to his preceding statement by claiming that Americans need to "go to the voting booth and vote their values."
Many Trump supporters have stated that the President does reflect their values. Comey's critics have furthermore placed his values into question.
America's Take on Comey's Interview
The general consensus of Comey's most recent interview is very skewed even across party lines. Many Americans have moreover speculated about the role that Comey's investigation into Hillary Clinton's email scandal played in the election. Some people have opined that he contributed to Clinton's loss. However, other individuals believe that Comey purposefully let Clinton off the hook to better her chances of winning the 2016 election.
President Trump fired James Comey from his position as FBI Director in May 2017. The Commander-in-Chief cited Comey's management of the Clinton email scandal as the reason for his termination. However, since Comey's removal, he has become a staunch critic of the President.
The Commander-in-Chief has fired back at Comey via Twitter. In addition to citing the latter as a "leaker" and "liar," President Trump stated that it was his "great honor" to fire the former FBI Director.
A full transcript of James Comey's interview can be read in full here.
President Trump has yet to issue a public response to the former FBI Director's ABC News interview.