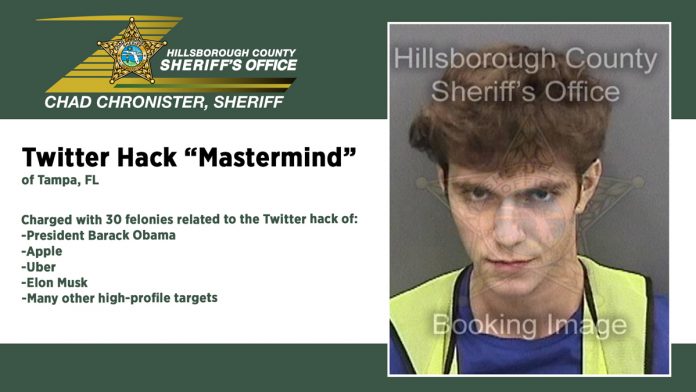 Early Friday morning a joint force of the FBI, IRS, U.S. Secret Service, and state of Florida law enforcement arrested Graham Ivan Clark, a 17-year-old Tampa, Florida resident. He is accused of masterminding the July 15 Twitter hack.
The teenager is currently being held in jail and Hillsborough State Attorney Andrew Warren has filed 30 felony charges against him in connection with the cyber attack. The charges include organized fraud, communications fraud, identity theft, and hacking.
Warren held a broadcast news conference describing the arrest.
Two others alleged to be involved were formally charged by the U.S. Department of Justice (DOJ). Nima Fazeli, 22, of Orlando and 19-year-old Mason Sheppard in the UK. They go by the hacker aliases "Rolex" and "Chaewon" respectively. 
Fazeli is facing 5 years in prison and a $250,000 fine for one count of "computer intrusion." 
The hackers are accused of stealing employee credentials and getting into Twitter's systems where the hackers were able to target other employees who had access to account support tools.
Twitter's most recent statement said that 130 accounts were targeted in the attack and that tweets were sent out from 45 of those accounts. The social media giant also said that their investigation revealed that the direct message inboxes of 36 accounts were accessed by the hackers, including one elected official in the Netherlands. 
Prosecutor claims "This is not an ordinary 17-year old"
Clark is being charged as an adult. "This was not an ordinary 17-year old," said the Warren during the press conference. Enforcement agencies are taking the hack very seriously, saying this it's not just the $100,000-plus in bitcoin that the teen is alleged to have scammed out of unsuspecting Twitter users, there are also national security issues.
"There is a false belief within the criminal hacker community that attacks like the Twitter hack can be perpetrated anonymously and without consequence," said U.S. Attorney David L. Anderson for the Northern District of California. "Today's charging announcement demonstrates that the elation of nefarious hacking into a secure environment for fun or profit will be short-lived. Criminal conduct over the Internet may feel stealthy to the people who perpetrate it, but there is nothing stealthy about it. In particular, I want to say to would-be offenders, break the law, and we will find you."
————————————————–
Have a story you want USA Herald to cover? Submit a tip here and if we think it's newsworthy, we'll follow up on it.
Want guaranteed coverage? We also offer contract journalism here.  Just be sure you're comfortable giving up editorial control, because our journalists are dogged and will follow the story through to it's conclusion. The story will be published to our exacting standards, without regard for your preferred slant.
Want to contribute a story? We also accept article submissions — check out our writer's guidelines here.