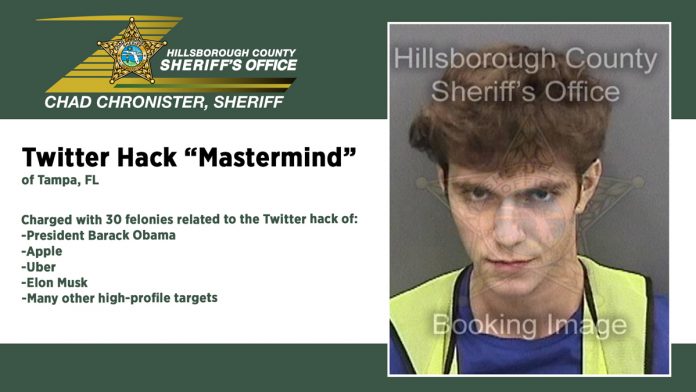 Early Friday morning a joint force of the FBI, IRS, U.S. Secret Service, and state of Florida law enforcement arrested Graham Ivan Clark, a 17-year-old Tampa, Florida resident. He is accused of masterminding the July 15 Twitter hack.
The teenager is currently being held in jail and Hillsborough State Attorney Andrew Warren has filed 30 felony charges against him in connection with the cyber attack. The charges include organized fraud, communications fraud, identity theft, and hacking.
Warren held a broadcast news conference describing the arrest.
Two others alleged to be involved were formally charged by the U.S. Department of Justice (DOJ). Nima Fazeli, 22, of Orlando and 19-year-old Mason Sheppard in the UK. They go by the hacker aliases "Rolex" and "Chaewon" respectively. 
Fazeli is facing 5 years in prison and a $250,000 fine for one count of "computer intrusion." 
The hackers are accused of stealing employee credentials and getting into Twitter's systems where the hackers were able to target other employees who had access to account support tools.