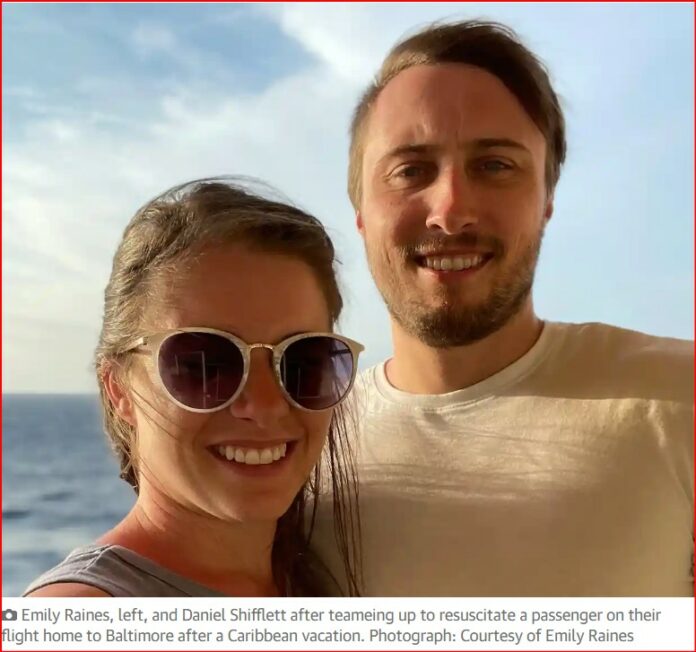 Baltimore nurse Emily Raines and her boyfriend Daniel Shifflett are being hailed as heroes after their life-saving actions on a Southwest flight. 
While returning from a Caribbean cruise, the couple found themselves in the midst of a medical emergency when a fellow passenger's heart stopped. 
Raines, an acute care nurse, and Shifflett, a former nurse turned finance professional, quickly responded to the flight attendant's call for assistance.
Raines and Shifflett rushed to the aid of the unconscious passenger, who had turned purple due to lack of oxygen. They were uniquely qualified to perform cardiopulmonary resuscitation, aka CPR.
Assessing the situation, Raines used a device to ensure the man's airway was clear, while Shifflett initiated chest compressions. The couple tirelessly worked for 20 minutes, resuscitating the passenger just seven minutes before the plane landed. 
Their valiant efforts did not go unnoticed by fellow passengers, who applauded and gave high-fives to Raines and Shifflett as they deplaned. 
Heroes story goes viral
The story of their heroic act quickly gained viral attention, standing out amidst the usual news cycle dominated by political debates and financial issues.