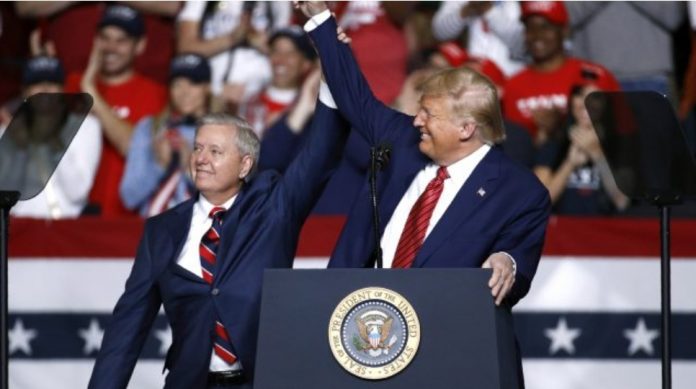 Saturday, former President Donald J. Trump thanked the Senators who voted against his impeachment conviction with a 57-43 vote for acquittal. He also provided signals for what his political future may hold.
"I want to first thank my team of dedicated lawyers and others for their tireless work upholding justice and defending truth," Trump said. "My deepest thanks as well to all of the United States Senators and Members of Congress who stood proudly for the Constitution we all revere and for the sacred legal principles at the heart of our country."
His reference to the sacred legal principles and Constitution may have been a jab to the Republican detractors who voted that the impeachment trial was unconstitutional, yet still voted for conviction.
He added: "This has been yet another phase of the greatest witch hunt in the history of our Country. No president has ever gone through anything like it, and it continues because our opponents cannot forget the almost 75 million people, the highest number ever for a sitting president, who voted for us just a few short months ago."
"Our historic, patriotic and beautiful movement to Make America Great Again has only just begun," he said. "In the months ahead I have much to share with you, and I look forward to continuing our incredible journey together to achieve American greatness for all of our people. There has never been anything like it!"
Lindsey Graham's Take on Trump and the GOP
In an interview on 'Fox News Sunday', Republican Senator Lindsey Graham stated, "I spoke to him last night; he was grateful to his lawyers. He appreciated the help that all of us provided. You know, he's ready to move on and rebuild the Republican Party."
"He's excited about 2022. And I'm going to go down to talk with him next week, play a little golf in Florida. And I said, 'Mr. President this MAGA movement needs to continue, we need to unite the party.'"
Graham said Sunday that Trump is "mad at some folks." The South Carolina Republican added that he wants to take back the Senate in 2022 and the party needs Trump to achieve that goal. "We can't do that without Donald Trump so he's ready to hit the trail and I'm ready to work with him," he said.
When asked about Senate Minority Leader Mitch McConnell's speech on the chamber's floor Saturday in which he directly blamed Trump for fomenting last month's riot, Graham said he was "a bit surprised."
"He got a load off his chest, obviously. But unfortunately he put a load on the back of Republicans. That speech you will see in 2022 campaigns," Graham said. "I like him, Senator McConnell. He worked well with President Trump."
Graham also defended Trump against the impeachment charge, saying Trump's speech did not incite violence at the Capitol.
"In terms of the law, no. He bears responsibility of pushing narratives about the election that I think are not sound and not true. But this was politically protected speech. The speech on January 6th was not an incitement to violence," the senator said.