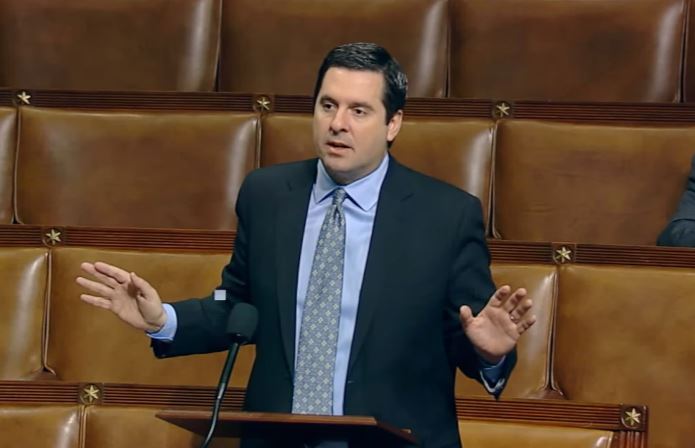 The House Intelligence Committee released the memo related to the Russia investigation despite the objection of the Department of Justice (DOJ) and the Federal Bureau of Investigation (FBI).  Democrats also opposed its release.
On Monday, the Republican members of the committee overruled Democrats and voted in favor for the release of the memo. On Wednesday, FBI Director Christopher Wray expressed grave concerns about the decision of the committee.
In a statement, Director Wray emphasized the committee provided the FBI with a "limited opportunity to review" the document. He added that they "have grave concerns about material omissions of fact that fundamentally impact the memo's accuracy."
Last week, the DOJ sent a letter to Cong. Nunes warning him that releasing the document  would be "extraordinary reckless."
Republican Cong. Devin Nunes is the chairman of the House Intelligence Committee. He also served on President Donald Trump's transition team. His staff prepared the memo.
The President declassified the memo and the committee released it on Friday afternoon. The President said, "I think it's a disgrace, what's going on in this country. I think a lot of people should be ashamed of themselves, and much more. It's a disgrace."
On the other hand, Cong. Nunes explained that the committee released the memo because it "discovered violations of the public trust." He added that Americans "have a right to know when officials in crucial institutions are abusing their authority for political purposes."
Furthermore, Cong. Nunes hopes that the committee's action will "shine a light on this alarming series of events."
The memo indicated that the DOJ and the FBI abused their authority in using the Foreign Intelligence Surveillance Act (ACT) during the 2016 presidential election cycle. It is focused on the FISA warrant authorizing electronic surveillance on Carter Page, the former foreign policy adviser of Pres. Trump.
Click the link to read the entire memo.
Democrats say Nunes memo contains misleading allegations against DOJ, FBI
The Democratic members of the House Intelligence Committee condemned the release of the Nunes memo. According to them, the document contains "misleading allegations" against the DOJ and the FBI. It is a "shameful effort to discredit" both agencies, to "undermine the Special Counsel's ongoing investigation and undercut congressional probes."
In addition, the Democrats accused the Republicans of suppressing the full truth because of their refusal to release their comprehensive counterpart memorandum.
Furthermore, the Democrats said, "The selective release and politicization of classified information sets a terrible precedent and will do long-term damage to the Intelligence Community and our law enforcement agencies."
"The Republican document mischaracterizes highly sensitive classified information that few Members of Congress have seen, and which Chairman Nunes himself chose not to review. It fails to provide vital context and information contained in DOJ's FISA application and renewals…The sole purpose of the Republican document is to circle the wagons around the White House and insulate the President.