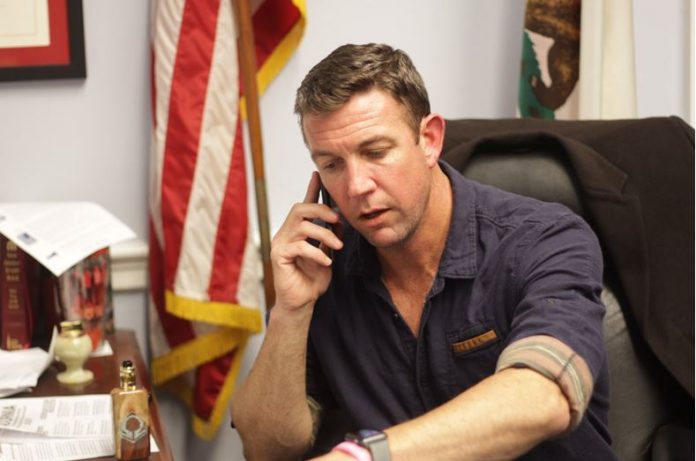 U.S. Representative Duncan Hunter of California failed to obtain the endorsement of his local Republican Party ahead of the 2020 primary elections.
Rep. Hunter is facing a federal indictment for allegedly misspending campaign funds for personal expenses and falsifying campaign records submitted to the Federal Elections Commission (FEC). He pleaded not guilty and called the accusations against him as politically motivated. The trial on his case is set to begin in January.
Federal prosecutors also charged his wife, Margaret Hunter for misusing campaign funds for personal expenses. Mrs. Hunter served as chairwoman of her husband's campaign. She already pleaded guilty to one count of corruption and agreed to testify against the lawmaker.
The six-term lawmaker, whose campaign is already vulnerable due to the allegations against him, is also confronting strong competition from other Republican candidates including former Rep. Darrel Issa, conservative talk show host Carl DeMaio and State Sen. Brian Jones.
According to the Associated Press, Rep. Hunter did not receive the necessary two-third support to get the endorsement of the San Diego Republican Party. The result showed that his fellow Republicans were not convinced by his argument that he is still the best candidate to win the seat in his congressional district in 2020.
Rep. Hunter reminds Republicans he won his seat despite the charges against him
During his remarks at a GOP forum in San Diego, he stated, "I've got his seat. I've won this seat in the worst of times." He added, "I'm still fighting from this seat. I'm still fighting for you,"
Furthermore, Rep. Hunter emphasized, "I'm not going to move somewhere and fight for the easy seat. Even when Democrat operatives in a U.S. attorney's office indicted me months before my election, tried to steal my seat; I still won."
"As a United States Marine, what we do is we stand up and we fight. And we fight," said Rep. Hunter, a combat veteran.
Last year, he narrowly defeated Democrat Ammar Campa-Najjar by 3.4 percent. Campa-Najjar, who served in the Obama administration, is running again to win his seat in the 50th congressional district of California in 2020.
The Republican Party has a voter registration advantage in the 50th congressional district.