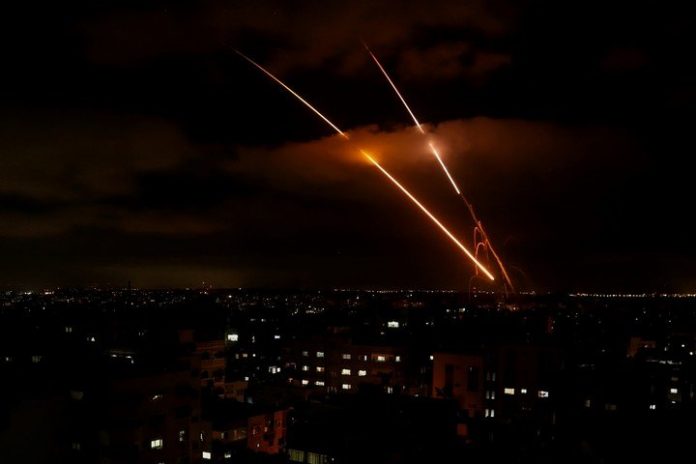 Israeli Prime Minister Benjamin Netanyahu's Security Cabinet has approved a total cease-fire. In an effort to end an 11-day conflict filled with heavy bombing between Hamas militants and Israel.
Hamas has been launching rocket barrages towards Isreal since last Monday. Most of the missiles were destroyed by the Iron Dome, the Israeli rocket shield. Israel's military spearheaded by the Israel Defense Force (IDF) has been sending a barrage towards the Gaza Strip was much more deadly.
U.S. leaders had pressured Prime Minister Benjamin Netanyahu to exercise restraint in the conflict, even as they reaffirmed support for Israel's right to defend itself.
It was reported in Haaretz that other international leaders, along with the U.N. have been urging de-escalation. And Egypt served as the deal-broker of the truce, according to a report in Haaretz, an Israeli newspaper.
In a statement, Netanyahu's office says IDF leaders had accepted a "mutual" cease-fire with no preconditions.
Hamas militants confirm the cease-fire agreement to multiple media sources.
"We were informed by our brothers in Egypt that an agreement had been reached for a mutual and simultaneous ceasefire in the Gaza Strip, starting at 2 a.m. on Friday, May 21, 2021," the Hamas statement read. "And that the Palestinian resistance will abide by this agreement as long as the occupation is committed."
Biden's statement summary
U.S. President Biden thanked both Israel and Egypt for their part in stopping the violence during a televised address that aired Thursday evening.
He praised Netanyahu for winding down the violence. He also maintains that the Israeli military was justified in launching airstrikes at militant targets since they were attacked.
"The United States fully supports Israel's right to defend itself against indiscriminate rocket attacks from Hamas and other Gaza-based terrorist groups that have taken the lives of innocent civilians in Israel," he said.
Biden sent condolences out to the victims' families on both sides of the conflict. And he also pledged to aid in rebuilding Gaza. The aid will be in partnership with the Palestinian Authority and not given to the Hamas militants.
"I believe the Palestinians and Israelis equally deserve to live safely and securely and enjoy equal measures of freedom, prosperity, and democracy," he said. "My administration will continue our quiet and relentless diplomacy."
11 Days for Hamas militants and Palestine
These clashes left at least 12 Israelis and 230 Palestinians dead. It was the worst violence since the 2014 Gaza war. In the Gaza strip, the military and innocent citizens are intertwined. And although the IDF claim they were only bombing military targets 230 Palestinians are dead. And hundreds more were wounded.
Around the world, protests were taking place in favor of both sides. And world leaders were demanding de-escalation.
Hamas has fired more than 4,000 rockets into Israel over the past 11 days. The claim was that the barrage was a response to a clash between Israeli police and Palestinian protesters. The IDF struck back. And although they launched only a fraction of what Hamas sent, the results were devastating. The IDF "strategic" airstrikes against launch sites, attack tunnels, weapons vaults, and Hamas leaders.  The attacks left many Palestinians dead. Fighting was still raging on Thursday before the cease-fire was announced.