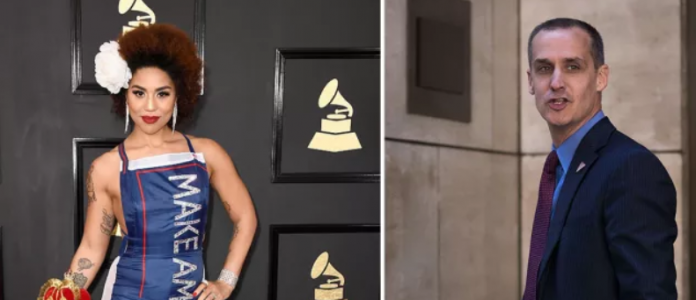 Trump supporting singer Joy Villa has come out and accused the President's former campaign manager Corey Lewandowski of sexual misconduct, as reported by The Hill.
A Thorough Analysis of Allegations Against Lewandowski
Villa alleges that Lewandowski behaved inappropriately with her during a November Trump International Hotel party in Washington D.C. Her account reads as follows:
"I'm wearing this silver suit and stretchy pants, and after the photo, he smacks my ass really hard. It was completely demeaning and shocking."
She then claims Lewandowski brushed off warnings that she could report his alleged behavior:
"He said, 'Go ahead, I work in the private sector.'"
Finally when asked why Villa waited roughly one month to come forward, she cited concerns about backlash:
"I did feel that Corey could badmouth me. I thought, 'What if this messes up my chances.' He has power and influence, and he's close with the President, who just tweeted about his book [and] I wanted to play it safe and avoid the drama."
Sexual Assault Allegations in America
Over a series of weeks, multiple male public figures have faced accusations of sexual misconduct. Roy Moore, Harvey Weinstein, and countless others have denied allegations against them.
The plethora of sexual misconduct allegations have also prompted inquires regarding the timing, circumstances, and possible motives. Some Americans have questioned whether or not accusations are being employed as revenge motives or political weapons.
Throughout Roy Moore's run for the Alabama Senate seat, he repeatedly alleged that women accusing of him of unwanted sexual contact were doing so to sabotage his campaign. Many other men facing assertions of inappropriate, sexual behavior have also denied all claims against them.
Reactions to Villa's Accusations
Villa's accusations against Lewandowski have raised many eyebrows. Firstly, both parties are strong supporters of President Trump. As the news made the rounds on social media, many of Lewandowski's critics noted the 2016 incident where Michelle Fields claimed that he roughly grabbed her arm during one of Trump's public events. However, Lewandowski was never found guilty of wrongdoing.
Furthermore, people have also questioned the plausibility Villa's accusations. Trump supporters in particular inquired about the existence of evidence to substantiate Villa's account. Thus far, no evidence has been presented.
Corey Lewandowski has not yet responded to Joy Villa's allegations of sexual misconduct. President Trump has not commented on the matter either.