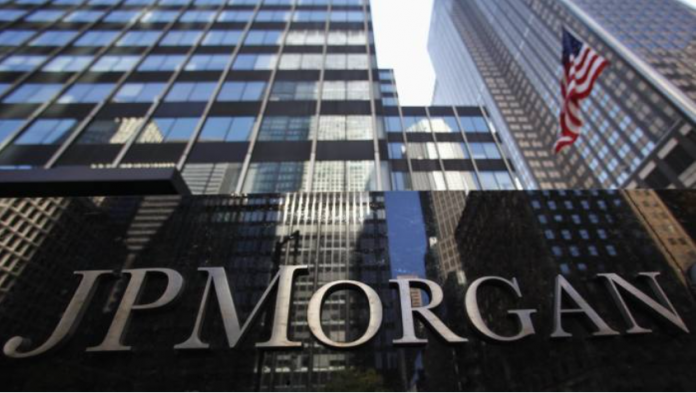 JPMorgan predicted that Bitcoin could reach as much as $146,000 and noted that the high-flying cryptocurrency is competing with gold as an "alternative" currency.
Lately, an increasing number of institutional investors and billionaires invested in bitcoin and are bullish that its price will continue to rally. In December alone, the cryptocurrency's price gained 200%.
At one point, Bitcoin reached a $614 billion market cap and exceeded the top world banks. JPMorgan noted that the cryptocurrency's market cap is more than $575 billion. To match the $2.7 trillion private sector gold investment, the cryptocurrency's price needs to increase by 4.6 times. 
On Monday, Bitcoin plummeted to $27,000. However, some investors consider the volatility as a good news and a buying opportunity.  
JPMorgan's strategists said, "This long term upside based on an equalization of the market cap of bitcoin to that of gold for investment purposes is conditional on the volatility of bitcoin converging to that of gold over the long term."
"The reason is that, for most institutional investors, the volatility of each class matters in terms of portfolio risk management, and the higher the volatility of an asset class, the higher the risk capital consumed by this asset class." He added.
Furthermore, the interest of financial institutions in Bitcoin is what's making the 2020 rally different than that of 2017 when the cryptocurrency lost its value and dropped to $3,122 the following year.
According to JPMorgan,  there is "little doubt that the institutional flow impulse into bitcoin is what distinguishes 2020 from 2017."
"A convergence in volatilities between bitcoin and gold is unlikely to happen quickly and is in our mind a multi-year process. This implies that the above $146k theoretical bitcoin price target should be considered as a long-term target, and thus an unsustainable price target for this year."
Finally, there are still some arguments and counter-arguments by billionaires regarding the Bitcoin rally. Billionaire Warren Buffet thinks that Bitcoin has no value at all and investors should not invest in it.
Have a story you want USA Herald to cover? Submit a tip here and if we think it's newsworthy, we'll follow up on it.
Want to contribute a story? We also accept article submissions – check out our writer's guidelines here.