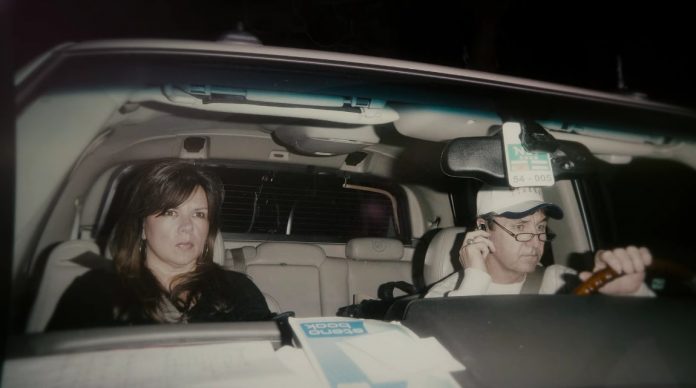 An explosive New York Times article came out today that gives additional information on the 13-year Britney Spears conservatorship run by her estranged father. And there are damning indications that her appointed Business manager, Lou Taylor profited a lot from Britney's estate.
In June 2021 Britney was able to speak publicly at a court hearing. She repeated many of the same statements that she had been making in closed hearings since 2019. "They should be in jail," Spears said about the managers of her conservatorship.
 Britney's dad was ousted from his role as conservator in September. And the California-based conservatorship came to an end last month. 
All the information has been circulating for years in the #FreeBritney movement. And all the details in the New York Times have previously appeared on YouTube on That Surprise Witness TV. 
More evidence of wrongdoing in Britney Spears Conservatorship
The Britney Spears conservatorship was established just weeks after Lou Taylor-owned company, Tri Star  gave Jamie, Britney Spears's father, a $40,000 "loan."
Conservatorships are typically reserved for people unable to care for themselves who are no longer able to work. It has been reported that in Britney's case the word "dementia" was written into the court documents to kick off the legal process.
This was not a medical diagnosis, but Jamie Spears and Lou Taylor were able to use it to get Britney placed in a conservatorship. 
Lou Taylor and Tri Star's involvement widespread
Jamie, still owed Tri Star at least $40,000, when he appointed them Britney's business manager.  From all appearances Tri-Star and its owner, Louise M. Taylor had free access to Britney's estate. 
Not long after the conservatorship commenced, accounts for Britney were opened at a tiny Tennessee firm, Stonebridge Wealth Management,  co-founded and co-owned by Lou Taylor.
And in 2010, Britney's charitable foundation was emptied out and $50,000 was funneled to a Christian counseling church co-owned by Taylor and her husband. 
Britney Spears is an icon of the LGBTQ community. It is unconscionable that her money funded gay conversion therapy and they reportedly performed exorcisms on young girls.
Jamie Spears also collected millions of dollars from his daughter as her conservator. And there were times when he also donated 10 percent of that income to Taylor's church.
Britney's estate paid for legal bills when Lou Taylor or Jamie sued her fans. The fans, mostly part of the Free Britney movement, were pointing out many of the things revealed in this article.
The Spears' estate paid for ads in Hollywood trade magazines praising Ms. Taylor and Tri Star. And payments were made to the media to present the conservatorship as good and the Free Britney movement as "crazies." Additional advertising for Lou Taylor and Tri Star could have been made without the estate accounting noting them.
Over the next 10 years through a variety of revenue streams, Lou Taylor made millions off of Britney.  
And when Britney refused to work unless her Dad was removed as conservator, Tri Star requested and received payments ongoing payments.
And almost entirely because she was Britney's manager, Louise M. Taylor, became a manager in entertainment, with clients including the Kardashians, Gwen Stefani and Reba McEntire.
Are Millions Missing?
Once the conservatorship was in-place everyone stopped pretending that Britney was too ill to work. The superstar was quickly sent on a 97-show international tour, known as The Circus Starring Britney Spears. It was a commercial success, with a total gross of $131.8 million. The Circus may have been the highest-grossing tour of its type for the decade.
And that was only the beginning. It is estimated that she was paid $137 million for a residency in Vegas.  2011's, Femme Fatale Tour, grossed  millions, as well. And the 79 show tour was included on Pollstar's Top 100 North American Tours list.
Britney also appeared on high-profile TV shows. 
Although she has not recorded any new music since 2016 it is common sense that she would receive residuals for her extensive recording portfolio. Britney Spears has 28.5 million monthly listeners on Spotify. 
Most experts estimate that Britneys' estate should be worth hundreds of millions.
Charles J. Harder, Lou Taylor's attorney claims that Tri Star "faithfully served the estate" and helped Ms. Spears build an estimated $60 million fortune. "That is a success by any standard."
But Britney's attorney Mathew Rosengart is making it clear that he's investigating how Lou Taylor's company was running Britney's life and exactly how much that cost her.
For month's he has been demanding Taylor and Tri Star declare how much they made from Britney's estate. And that "Tri Star's ongoing failure to answer this question speaks volumes and leads to the unfortunate and inexorable conclusion that Tri Star has much to hide," he says. 
California judicial rules say, "the conservator must avoid any personal, business or professional interest or relationship that is or reasonably could be perceived as being self-serving or adverse to the best interest of the conservatee."
Between Britney's Dad Jamie and Lou Taylor it seems her "best interests" have not been well served. And to quote Mathew Rosengart Britney has been in a 13 year "Kafkaesque nightmare."